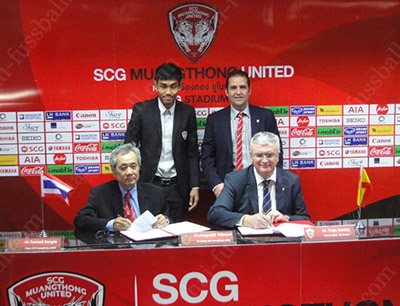 The contratcs are signed
image: © thai-fussball.com
Now it is finally official, perfect and sealed by contract. Teerasil Dangda will move to Spain in summer. In a press conference on Wednesday the last week at SCG Stadium the contracts were signed.
No space were left in the small room where the press conference took polace in the catacombs of the SCG stadium. And the delegation of the Spanish club from Almería seemed impressed - not only by the fuss on Wednesday. Two weeks ago, shortly after the initial announcement was made that the clöub has agreed to sign Teerasil Dangda, the website of the Spaniards couldn't be reached for a longer time and up to 1 million hits were counted as it was to be heard.