It is on. The 2010 AFF Suzuki Cup is to get off the starting blocks. On 1st December group A will kick off the tournament when Thailand will face Laos and Indonesia face Malaysia. Since Monday Thailands eleven are in Indonesia. Not much of a time for Bryan Robson to prepare his team.
Nevertheless and beside all the circumstances, Thailand is the favourite side to win the tournament. Even though we do have a different opinion. Thailands record for the ASEAN-Championship isn't really that bad. Together with Singapore they are 3-times record champion. In 2007 and 2008 the Thais failed to make it big, loosing the final. In 2004 they even failed to manage the knock out stage.
They came up third in the group behind football giants Malaysia and Myanmar. That time German football legend Siggi Held was in charge. Last time they lifted the trophy was in 2002.

Without any time for preparation Bryan Rosbons squad will start the campaign. While all other nations had their time for friendlies and camps, Robo didn't. All his players, except Teerathep Winothai, were on club duty. Singapore Cup, League Cup, and last weekend during the Thai FA Cup final. Under such circumstances, we better not ask what about Thailand would had qualify for the Asian Championship in January.

Having no time to prepare the team isn't much of a bit concern for Robson. " I'm not too concerned though about the team formation and the players getting to know each other because we have 17 players from three teams (Muang Thong, Chonburi and Buriram PEA) and they have been playing together on the national team for the past year." He is much more concerned about the fatigue of his players as he added. "The main thing that concerns me is that I have a few injury problems and some of the players are quite tired after the end of the league season in Thailand. I've got about eight players that I need to assess after training today before deciding on my team. Both Natthaphong Samana and Datsakorn Thonglao had severe cramp after the FA Cup final so those are two players that I have to have a close look at."

So lets take a closer look at the 22-man Robo selected to fight for glory. It wasn't much of a problem for Robo to select his man, and most of them we have already seen during the recent friendlies.

At the goalkeepers position we do have the biggest miss. Kawin Thamsatchanan injury is really a blow. He is the most talented in Thailand and the number one between the posts. Nevertheless former number one Sinthaweechai Hathairattanakool isn't that bad either. He now is in a position to fight back and may get the number one status back. His back up is Sivaruck Tedsungnoen from Buriram PEA.

The defence is formed by the usual ones. We think that Nataporn Phanrit and Panupong Wongsa will start at the centre back positions, while Suree Sukha may start as right back and Natthaphong Samana on the left side.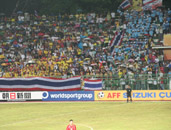 AFF Cup 2008 on Phuket
(c) C. Bellgardt for thai-fussball.de
The midfield is a real tricky one. Here we do have the agony of choice as players are highly rated and technically superb. To choose four to five on the starting position isn't really easy. However they may also depend on Robsons tactic. We are pretty much sure that Datsakorn Thonglao will have one starting position. Than we add Suchao Nuchnum on the right wing, Sutee Suksomkit for the left and Phichitphong Choeichiu in the center. 37-year old veteran Therdsak Chaiman may be on the bench and brought in as substitute during second half. An interesting constellation we may face in the knock out stage. Surat Sukha, the only Thai abroad and under contract with Melbourne Victory, may join the team than. As the AFF Cup isn't an official date in the FIFA calendar, his club is not forced to release him for national duties. Over the past weeks he was rested by his club, so we think that he most likely will join in. A bit of a surprise is the miss of Thai-Swiss national Peter Laeng as he was not selected by Bryan Robson. While Laeng is at home in Switzerland, he told us " Yes, I really was a bit disappointed. But I was injured for about five to six weeks and therefore are not in a position to claim anything. Of course I would appreciate to be with the team rather than sitting at home."
Last but not least, lets face our stomachache division, the striking force. Most likely Teerasil Dangda and Sarayuut Chaikamdee will start. Both together showed that they are able to harmonise up front. However, Thailand failed to find the net in the past. All over 2010 the Thais played nine international matches but scored only on six times. The selection of Sarayuut for the friendlies during September was really welcomed by the fans. And he proofed it scoring the goals against India and Singapore. But what Robo have up one's sleeve? Striker number three is Teerathep Winothai, who was able to find his old form since he joined BEC-Tero midway the season. But his performances in the Thai kit are a bit unlucky. Number four is the youngster Keerati Keawsombatfrom Burriam PEA. Robo appraises his aerial power. However, he didn't found the net that much so far. Still a miss by many fans is Anon Sangsanoi. BEC-Tero's top scorer and top scorer of the 2008 and 2009 season again was ignored by the coaches.
What will happen in case of an early exit will be interesting to see. Bryan managed to fulfil the minimum target for the Asian Games reaching the quarters. But what will happen in case not fulfilling it for the AFF Cup? Expectations are much higher now and it may be interesting how the FA react. Will they raise the bonus for the players only once more? Bryan Robson could have some excuses on his hand, and a few good ones. Lets hope that on such a scenario the FA and the League look who's talking. And we hope we never have to raise such questions after the 29 December when the tournament will find his end.
We like to wish our boys all the best for the tournament and Thailand Su Su.
Squad:
Goalkeepers:
Sinthaweechai Hathairattanakool (Chonburi FC), Sivaruck Tedsungnoen (Buriram PEA)
Defenders:
Nataporn Phanrit, Panupong Wongsa (beide Muang Thong), Suree Sukha, Natthaphong Samana, Cholratit Jantakam, Suttinan Phuk-hom (alle Chonburi FC), Theeraton Bunmathan (Buriram PEA)
Midfielders
Datsakorn Thonglao, Phichitphong Choeichiu, Naruphol Ar-Romsawa (alle Muang Thong), Sutee Suksomkit, Wichaya Dechmitr (beide Bangkok Glass FC), Surat Sukha (Melbourne Victory), Suchao Nuchnum, Rangsan Viwatchaichok (beide Buriram PEA)
Strikers
:
Teerasil Dangda (Muang Thong), Teeratep Winothai (BEC-Tero), Sarayuut Chaikamdee (Thai Port FC), Keerati Keawsombat (Buriram PEA)