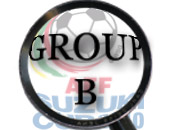 After the AFF Cup kicked off yesterday with the matches of group A, today it was the turn of group B. As we had a closer look at the Thai group a few days ago, we now like to look at the other one.
Alongside the Indonesia and Thailand the two favourites of group A, we can find two more in this group. Those are Vietnam and Singapore. While Vietnam, is the defending champion of this tournament, Singapore together with Thailand won the title three times. Philippines and Myanmar are nothing more than underdogs.
Around the group stage draw it was to believe that the Thais didn't liked to be drawn into this group. Reason for this is the game plan, which foresees to play the game day 2 on fifth of December. Readers, familiar with Thailand may guess why this is. The King of Thailand is having his birthday on that day and it explains all.


Philippines national football team
So let's start with the Philippines. After missing the 2008 final round, they are back on stage. However it was the only time they failed to qualify since the AFF Cup introduction in 1996.
If you talk about the recent success of the national side, you have to name Dan Stephen Palami, who plays a key role. In his daily job he is the director of the Philippine railway company. Under his management he signed a English as head coach, now replaced by another. Simon McMenemy. Between all those high awarded old senior coaches, he is the freshman. McMenemy is 32 years of age, and most probably the only coach at the AFF Cup without any grey hair. Furthermore, he doens't have any big coaching or playing experience and he has no merits to offer. The new coach by the way was searched via an open job advertisement in the Internet. Palami also intensified the search for players with Philippine roots. And it turned out very successful.
Already since a few years the two brothers Phil and James Younghusband are playing for the national team. A few years ago they were in the Chelsea FC reserve squad. Both scored four goals together in the qualification tournament. Other naturalised players in the squad and joined recently are Robert Gier (ex-Wimbledon and ex-Sheffield), Jason de Jong from Netherlands, Anthony Jónsson from Island, Mathew Hartman (ex-Portsmouth) and the young German Midfielder Manuel Ott. The 18-year old is part of the reserve squad from FC Ingolstadt 04.
(supplement: as we were informed by coach McMenemy, Ott is not in the squad. He wasn't released by his club and will concentrate on his school.)
As Palami wasn't that much satisfied with his defence, he was convince Fulhams second string goalkeeper Neil Etheridge to play for the island state. During the final match of the qualification against Cambodia, he kept his side in the match. Stephan Schroeck, from German second Bundesliga side Greuther Fuerth, been contacted as well. However, he wasn't released by his club.
With such a squad, putting aside the inexperienced coach, they might be able to make one or the other upset. Philippines record at AFF Cup is even more worse than the one from Laos. On all appearances since 1996 they managed only one win. Against Timor-Leste and that was in 96.
Squad:
Goalkeepers
:
Neil Etheridge (FC Fulham), Eduard Sacapaño (Philippine Army FC)
Defenders:
Rob Gier (Ascot United), Anton del Rosario, Alexander Borromeo (beide Philippines Kaya FC), Rey Palmes, Joebel Bermejo (beide Philippine Air Force FC), David Basa (University of Santo Tomas), Ray Anthony Jónsson (Ungmennafélag Grindavíkur), Kristopher Relucio (Laos FC)
Midfielders:
Roel Gener, Nestorio Margarse (beide (Philippine Army FC), James Younghusband (n/a), Emelio Caligdong, Mark Ferrer (beide Philippine Air Force FC), Jason de Jong (VB Veendam), Christopher Greatwich (Morris County Colonials), Mark Drinkuth (FC Argon 04 Düsseldorf)
Strikers:
Yanti Bersales, Peter Jaugan, Ian Araneta (alle Philippine Air Force FC), Phil Younghusband (n/a)
Coach:
Simon McMenemy (England)
Myanmar national football team
This national side got a direct entry to the final round. It may makes you wonder, but it's true. Because indeed they even ranked higher in the FIFA/AFC Ranking than Malaysia.

The biggest success came in AFF Suzuki Cup 2004. At the end they were able to manage come up in fourth place. What we do have to expect this year, we don't know. Guess nobody really can say this. In fact under the new coach Tin Myint Aung, Myanmar achieved a fourth place during the AFC Challenge Cup campaign this year. However there are also close ties with Thailand. Muang Thong United stakeholder Robert Procureur is acting as Technical Director at Myanmar league side Yadanarbon FC. New BEC-Tero head coach Peter Butler is fulfilling the same positon at Yangon United.

Squad:
to be follow
Singapore national football team
As mentioned already, alongside Thailand, Singapore is the record champion of this tournament. Since Radojko Avramović took over in 2003 he led the side to a back-to-back championship in 2004 and 2007. 2008 Singapore ended up in the semis. Being in charge 7 years now, may mean that Raddy is one of the longest serving national coaches in the world.
Singapores FA, FAS, had to swallow the pill recently. Singapore withdrew from the AFC Champions League, as they could not see how to fulfil the criteria of the AFC. Since years now, foreign clubs are participate the national S-League. The small country isn't that big either to attract that many fans, although most of the football fans like to follow the English Premier League more than the local league. With that it is pretty tough to achieve an average attendance of 5.000 requested by the AFC. Even Thailand is having his problems with that as we learned recently. For the first time in league history a foreign club won the league and Bangkok Glass FC won the Singapore Cup. Under the reign of the FAS they Young Lions are playing in the S-League. They are a team made out of promising youngsters for the national side.
The AFF Cup squad of Singapore, most probably is one of the most experienced in the whole tournament. You should have an eye on goalkeeper Hassan Sunny, who is considerably one of the best in the region. On the up front you may find Noh Alam Shah and Aleksandar Duric. Shah is a real good striker and the 40-year old veteran Duric is always able to score and create danger in front of the goal. John Wilkinson, the new Police United signing was not selected for the final squad.
Squad:
Goalkeeper:
Lionel Lewis (Home United), Hassan Sunny (Tampine Rovers)
Defence:
Izwan Mahbud (Young Lions), Juma'at Jantan, Rosman Sulaiman (beide Home United), Baihakki Khaizan (Persib Bandung), Precious Emuejeraye (Persija Jakarta), Daniel Bennett (Singapore Armed Forces), Afiq Yunos, Safuwan Baharudin (beide Young Lions)
Midfield:
Noh Rahman (Singapore Armed Forces), Ridhuan Muhamad (Arema Malang), Isa Halim (home United), Mustafic Fahrudin (Persela Lamongan), Shahril Ishak (Persib Bandung ), Shahdan Sulaiman (Tampines Rovers)
Striker:
Noh Alam Shah (Arema Malang), Masrezwan Masturi ( Geylang United), Fazrul Nawaz (Gombak United), Khairul Amri (Persiba Balikpapan), Agu Casmir (Persija Jakarta), Aleksandar Duric (Tampine Rovers)
Coach:
Radojko Avramović (Serbia)
Vietnam national football team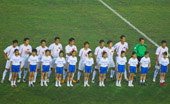 Vietnam during the AFF Cup 2008
(c) Đinh Minh Hùng
Last but least, the defending champion from Vietnam. Naturally they are one of the big favourites for the title.
Their national league, the V-League, isn't really that attractive looking from outside. Nearly every year clubs changing their name and moving around the country. To put the history of a club together could become a real mess. Nevertheless, beside Indonesia, you will find the highest wages and transfer fees in the region. Datsakorn Thonglaso, Thai national and moved from Vietnam to Thailand last year, is one if not the one most expensive player out of the region. For extending his contract with Hoàng Anh Gia Lai he was offered around 200.000 US Dollar hand money.
Vietnam was always have been a powerhouse in Southeast Asian football. However AFF Cup campaigns have always been an up and down for them until 2008 when they grabbed the title. They won the first match of the final in Thailand by 2-1 and trailed 0-1 in the return leg until Lê Công Vinh scored the equaliser in injury time.
To this years AFF Suzuki Cup Vietnam comes with all suspicions and worry of their own fans. Before this tournament, Vietnam has played 10 friendly matches with 6 defeats, 3 draws and only one win. Le Cong Vinh, the match winner from the 2008 final, will be absent from the squad due to his knee injury.
The squad contains many veteran players such as the best player of the 2008 edition, Duong Hong Son (Goalkeeper), Nguyen Vu Phong, Le Tan Tai, Phan Van Tai Em, Nguyen Minh Phuong(Mid fielders) and Nguyen Quang Hai (Striker). However they seem not to be in good shape now. In addtion, Henrique Calisto added some new faces like Bui Tan Truong, Le Sy Manh, Nguyen Anh Duc (some of them have just come back from 16th Asian Games). The players mentioned before are inexperienced and may not help the Viets that much.
Facing this addition, the Portuguese coach wanted to call 2-3 naturalised players who are playing in V-League but it's unintelligible of VFF when they couldn't show off a convincing reason. However, he believes that he could make history again with these players. With his "Fighting" theory. He also wants the My Dinh Stadium will be filled over 40.000 madly Vietnamese fans, to give the host a boost and advantage over their opponents.
Well not really. Maybe only 39.999. The rivalry between Thailand and Vietnam in football, may can be compared with England and Germany in Europe. Therefore it sounds unbelievable that there is really one Vietnamese crosses his fingers for Thailand. And this kind young lad, provided this final part above about the this national side.
Squad:
Goalkeeper:
Duong Hong Son (T&T Hanoi), Bui Tan Truong (Dong Thap FC)
Defence:
Vu Nhu Thanh (Vissai Ninh Binh), Le Phuoc Tu (Lam Son Than Hoa), Nguyen Huy Hoang, Tran Dinh Dong (beide Song Lam Nghe An), Huynh Quang Thanh (Binh Duong FC), Doan Viet Cuong (HAGL), Truong Dinh Luat (Saigon FC)
Midfield:
Nguyen Minh Phuong, Phan Van Tai Em (beide Dong Tam Long An), Le Tan Tai (Khatoco Khan Hoa), Nguyen Vu Phong (Bin Duong), Nguyen Minh Chau (Hai Pong FC), Pham Thanh Luong (Hanoi ACB), Nguyen Trong Hoang (Song Lam Nghe An), Phan Thanh Hung (Da Nang FC), Dinh Thanh Trung (Hoa Phat Hanoi)
Strikers:
Nguyen Viet Thang (Vissai Ninh Binh), Nguyen Quang Hai ((Khatoco Khan Hoa), Nguyen Anh Duc (Binh Duong FC), Le Sy Manh (Quang Nam FC)
Coach:
Henrique Callisto (Portugal)

Author: esgede, lokomotive, Minh Khang