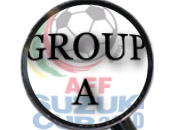 In two articles we will take a closer look on each of the two groups at the AFF Suzuki Cup. Today we like to start with group A, in which Thailand is fighting for a semi-final spot.
The group is hosted by Indonesia and the first matches will be played on 1 December. Alongside Thailand they face Malaysia and Laos. Both latter are underdogs with no doubt. However, you shouldn't underestimated Malaysia. So let's start with Thailands northern neighbour.
Laos national football team
With no doubt you can call Laos a dwarf in football, not only in Asia. Actually they are listed 171 in the FIFA world ranking and and 37 in Asia.Since 1996 Laos participated on each AFF Cup. However, out of 24 matches, they won only two out of them. The Austrian Alfons Riedl, was in charge of Laos's under-23 and lead them to a surprising 4th place during the 2009 SEA-Games. In May 2010 he become Indonesia's head coach. His successor is David Booth. We already had him for
an interview
recently. As he told us, we will see eight or nine players from the successful U23 SEA-Games squad in the senior.
If you are look for any familiar name in the squad, you may recognise Lamnao Singto. He had a three year spell in Tailand, playing for several clubs. Buriram-PEA FC was the last one before he went back to Laos. Now he is playing for MCTPC FC. His team mate from the 2010 season, the German-Lao lad Mano Nhouvannasak is not part of the squad. However, sooner or later we will see him in the Thai Premier League.
Laos's last two friendlies during their preparation was against Sisaket FC (1-1) and the Singapore National Team (4-0).
Squad:
Goalkeepers:
Sengphachan Bounthisanh (Capital FC), Sourasay Keosouvandeng (MTPC FC), Seng Athit Somvang (Police FC)
Defedners:
Saynakhoevieng Phommapanya, Kitsada (beide MTPC FC), Ketsada Souksavanh (EZRA FC), Khamla Pinkeo (Police FC), Senlati Vongsouriyasack (Bank of Laos FC), Khamphoumy Hanvilay (City Copy FC)
Midfielders:
Phatthana Syvilay, Kanlaya Sysomvang (MTPC FC), Keoviengphet Liththideth, Soukaphone Vongchiengkham, Manolom Phomsouvanh (alle EZRA FC), Khaysone Soukhavong, Konekham Inthammvong (beide Bank of Laos FC), Phonepaseuth Sysoutham (Capital FC), Viengsavanh Sayyaboun (Army FC)
Strikers:
Lamnao Singto, Khampheng Sayavutthi (beide MTPC FC), Visay Phapouvanin (Capital FC)
Coach:
David Booth (England)
Malaysia national football team
As well as Laos, Malaysia appeared on any of the AFF Cup's since 1996. And the biggest success came in that year, when they lost the final against Thailand 1-0. Malaysia won the U23 SEA-Games tournament last year, their first success since 1989. During the past two years, no foreign players are allowed in the Malaysian League. This decision was made in order to push the youngsters in the local football. In 2007 the FA implemented their own team in Malaysias highest tier. Since then they are playing in the Super League under the name of Harimau Muda A. The squad is made of U20/21 national players only. However, most of the clubs in the league are run by local FA's. There have been only three private clubs in the league in the likes of My Team, Kuala Muda and KL Plus. In the meantime all three already withdrawn from the league.

The national squad, coached by K. Rajagopal, is a real young and unexperienced squad. You won't find any player above the age of 30. Mohd Amri Yahyah, with 29 years of age, is considerably one of the most experienced players. Although you should watch the strikers Safee Sali and Shahrul Idlan. Defender Putra Omarhad a trial in 2007 with PSV Eindhoven.

Malaysia actually is ranked 150 in the FIFA world ranking and and number 28 in Asia.

Squad:
Goalkeepers:
Khairul Fahmi (Kelantan), Sharbinee Allawie (Terengganu)
Defenders:
Asrarudin Putra, Razman Roslan (Selangor), Khairul Helmi Johari, Sabre Abu (Kedah), Muslim Ahmad, Mahali Jasuli, Fadhli Shas, Mohd Faizal Mohammad (Harimau Muda A)
Midfielders:
Safiq Rahim, Amirulhadi Zainal, Amri Yahyah (Selangor), Amar Rohidan, Khyril Muhymeen, Faizal Abu Bakar (Kedah), K. Gurusamy (Harimau Muda A), S. Kunalan (Negeri Sembilan)
Strikers:
Safee Sali (Selangor), Shahrul Idlan (Kelantan), Ashaari Samsuddin (Terengganu), Izzaq Faris (Harimau Muda A)
Coach:
Rajagobal Krishnasamy (Malaysia)
Indonesia national football team
Let's take a look onto the host. They participated by the way at the 1938 FIFA World Cup under the name of Dutch East Indies. Indonsia managed to play the AFF Cup final for three times in a row, 2000, 2002, 2004, but kept without a trophy. As co-host in 2008 they advanced to the semis. Alfred Riedl head coach since May 2010 will face a tough task. The FA arrogates nothing more than the title,
while
the Austrian simply wants to reach the final
as he told us.
His preparation for the final tournament wasn't really the best in terms of the friendlies. The matches scheduled had to be cancelled and new opponents to be find. The last friendly against Chainese-Taipai ended in a 2-0 win.
Indonesia is the only country from the region, having a direct entry to the AFC Champions League. If you follow the
Blog of JC
frequently it could really make you wonder why. Or I simply not able to follow his Londoner cockney sense of humour. To me it looks like the Indonesian FA isn't much better organised than the Malaysian and by far not better than the Thai FA. But that's just from an outsider point of view. However, it looks like the football in Indonesia just took a step backward, introducing an alternative league named Liga Primer Indonesia. We have seen the same at the beginning of the last century in Thailand. Although the Indonesian Super League attracts thousands on every weekend. Indonesia has one the biggest attendance figures in the region which goes alongside with the highest salaries in the area. Thats one reason the league could attract players from Thailand and Singapore recently.
As Indonesia is the host, and Indonesians are football craze and they will flock out in numbers, you really have to thread them seriously.
Talking about the national side, Riedl already showed that he is having his own visions. He don't care about big names. As we don't know the final squad yet, we assume that he will find a good mixture ofexperienced players and young lads. Players we like to stress out are Cristian Gonzáles, born in Uruguay, and Bambang Pamungkas in the strike front.
Squad:
Goalkeepers:
Markus Haris Maulana (Persib Bandung), Ferry Rotinsulu (Sriwijaya FC), Kurnia Meiga Hermansyah (Arema FC)
Defenders:
Mohammad Nasuha (Persija Jakarta), Zulkifli Syukur (Arema FC), Maman Abdurahman (Persib Bandung), Benny Wahyudi, Muhammad Roby (beide Persisam Putra Samarinda), Muhammad Ridwan (Sriwijaya FC), Hamka Hamzah (Persipura Jayapura), Yesaya Desnam (Persiwa Wamena)
Midfielders:
Tony Sucipto (Persija Jakarta), Eka Ramdani (Persib Bandung), Oktovianus Maniani, Arif Suyono, Firman Utina (alle Sriwijaya FC), Ahmad Bustomi (Arema FC)
Strikers:
Cristian Gonzáles (Persib Bandung), Irfan Bachdim (Persema Malang), Bambang Pamungkas (Persija Jakarta), Yongki Aribowo (Arema FC)
Coach:
Alfred Riedl (Austria)
With that we finished group A. If somebody of is missing our Thai squad, well of course we will look at them in an own article.