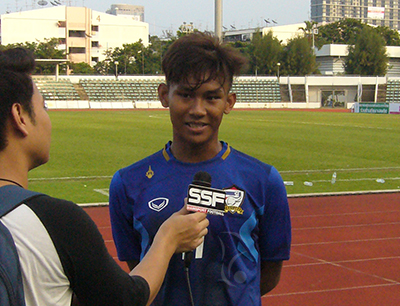 Chenrop Samphaodi
image: © thai-fussball.com
Just two weeks to go until the football tournament of the 28th SEA Games tournament is going to kick-off and Thai coach Senamuang just recently announced his 23-man-squad for the title defence mission. Surprising call-ups were not amongst them.
It was last Friday when Thai coach Kiatisuk Senamuang announced his team for the 28th SEA-Games. Looking at the selected players, there are no big surprises. Which was perhaps down to the fact that Senamuang had by far less headaches by thinking about how to split off his players between the senior side, for the World Cup and Asian Cup Qualifiers, and the under-23 for the Southeast Asian Games.
After a first solo attempt of Thai FA head Worawi Makudi to move the World Cup Qualifier against Vietnam away from 11 June 2015, both federations agreed to make a combined effort and finally were granted. Now the match will be held on 24 May instead of 11 June when it would have had collided with final day of the group stages of the SEA-Games. Interesting: Thailand and Vietnam are the only sides which received and got such special treatment. All other participant nations of the Games will have to play their qualification games to the World Cup 2018 on 11 June as scheduled.
Thailand will face Brunei, Laos, Timor-Leste, Vietnam and Malaysia in Group B in a bid for a semi-final spot. The Thais are to kick off their campaign on 29 May against their northern neighbour from Laos with the final of the under-23 tournament to take place 15 June. The full schedule can be found on our
>>here<<
on our webpage.
Including the AFF Szuzuki Cup MVP Chanathip Songkrasin, the 41-year-old Senamuang enters the SEA-Games with nine players who were already part of the winning squad 18 months ago. With BEC Tero Sasana and Muang Thong to provide for most of the team with six players respectively.
And with Tristan Do from BEC Tero, a Paris born player has been called up for the SEA-Games for the first time since 1997. The last one was Natipong Sritong-In, dubbed "Alfred", which won the gold medal with Thailand 1995 and 1997. Both have parents of Thai and Vietnamese descent.
The youngest player in Senamuang's list of players is the 19 year old Chenrop Samphaodi. The team mate of Tristian Do and Adisak Kraisorn at BEC Tero played in the 2013 Qualification to the AFC U-19 championship and the final tournament in 2014. After his great performances during the qualifying round to the AFC U-23 Championship in March, where he literally saved Thailand's ass against Cambodia. Since, he appeared in every of BEC Tero's Thai Premier League ties. But is stil looking for a goal.
The 23 man squad GK:
Chanin Sae-Eae (Chainat FC), Somporn Yos (BEC Tero Sasana)
DF:
Peerapat Notechaiya, Tanaboon Kesarat, Adisorn Promrak (alle BEC Tero Sasana), Suriya Singmui, Artit Daosawang (alle Muang Thong United), Putthinan Wannasri (Suphanburi FC), Narubadin Weerawatnodom (Buriram United)
MF:
Tristian Do, Chanathip Songkrasin (alle BEC Tero Sasana), Thitipan Puangchan, Kasidech Wettayawong, Sarach Yooyen (alle Muang Thong United), Pakorn Prempak (Police United), Nurul Sriyankem (Chonburi FC), Rungrath Poomchantuek (Chiang Rai United)

FW:
Chananan Pombuppha (Muang Thong United), Pinyo Inpinit (Police United), Chenrop Samphaodi (BEC Tero Sasana)