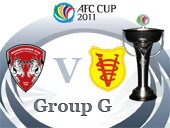 Finally, after a 4 weeks break the AFC Cup continues with it's third round this week. For both Thai representatives it will be a matter of defending their top of the table position in their respective groups.
While Chonburi FC will have to travel and play on Wednesday, Muang Thong United will be host to Victory SC on Tuesday. The home match should be an easy task and a must win for the current Thai Premier League Champion. After two matches Victory SC is sitting at the bottom of the table with no points in hand. With no doubt they are the underdog in Group G.
Already last year Muang Thong faced a representative of the Maldives in his group, V.B. Sports. Now it's Victory SC. The club from the holiday paradise is known as the "King of Maldive football". However, the club is less recognised across border compared to their local rivals New Radiant and Club Valencia. The nickname does not come by chance as Victory SC is the national record champion winning 20 league titles.
For this year's AFC Cup campaign Victory qualified as a cup-winner. In the 2010 AFC Cup campaign they finished at bottom of their group with only one victory while conceded 19 goals. Nevertheless, the club is not unexperienced in Asian Cup competitions as they play their trades there since the mid 80's of last century.
The Maldive national league just kicked off a few weeks ago and Victory just played two games so far in this season. Both resulting in a win. Victory SC arrived in Thailand without their two foreign star players because of Visa issues. The core of the Victory SC squad is formed by Maldives national players.
As we know Thailands Premier League is bit further into the season. The Thai Champion of the years 2009 and 2010 climbed up the table recently with 10 points out of the last four games. The rehearsal for the game against Victory succeeded with 3-0 win away to Siam Navy last week-end.
Coach Calisto tactical scheme will be a 4-3-3 with Anon Sangsanoi out due to injury. However, even with a nearly second string, three points should be doable for Muang Thong. The other game in Group G: Hanoi T&T - Tampine Rovers. Latter are level on points with Muang Thong in the table.