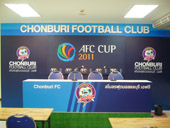 © thai-fussball.de
On Tuesday and Wednesday the 2011 AFC Cup round of last 16 stage is set. Both Thai representatives qualified for the knock out stage as group winner. Muang Thong as well as Chonburi had an off weekend to be able to prepare for both matches.
Relatively easily Muang Thong and Chonburi won there respective groups. That gives them an important advantage over their opponents as they are able to play at home in a single-leg match. While Muang Thong will clash with Lebanese champion Al-Ahed FC, Chonburi will have to face Sriwijaya FC from Indonesia. Latter are familiar to followers of Thai football.
Lebanon is one of the grey mouse of Asia in matter of football. Even a headline from last year ran in the sands afterwards, when a not disclosed team was accused of monetary forgery to keep up with transfers. Although it was about 200,000$, the thing probably was not interesting enough though.
However, up to now the biggest international success of a Lebanese team came by Al Nejmeh when they reached the 2005 AFC Cup final. Most known players from Lebanon might be Youssef Mohamad (FC Cologne) and Roda Antar (former HSV and Cologne).
Though the population in Lebanon is absolutely eager about football, however, the games of the local league still take place mostly behind close doors to prevent violence around the venues. It doesn't wonder at all as there are at least 17 accepted religions with in each case suitable political affiliation which splits the society and also the fans in different camps.
As there is hardly income for the clubs by television broadcasts and spectators, the clubs depend on the support by political leaders for which they are appreciative with carrying the suitable colours or with the naming of stadia after her cartridges.
Thus the opponent of Muang Thong carries the yellow colours, because he is supported by proiranian Hizbollah. The club from Beirut was founded in 1966. They became national champion for the first time just in recent years and repeated the triumph last year by winning all season games. Al-Ahed won the title for a third time in a row in April this year, by loosing just one game throughout the season. This was topped just last week when they were crowned national cup winner.
Al-Ahed advanced to the knock-out's finishing second in Group E behind the Iraqi team Arbil. Just six points out of 6 games were enough to move on. The Lebanese side finished 2nd ahead of Al Karamah from Syria which Muang Thong overcame last year in the quarterfinals.
Top-Goalgetter of Al-Ahed are Mahmoud El Ali who is always good to score as well as Hassan Maatouk, who is the leading goal scorer of Lebanon with 15 goals.
No players from Muang Thong are missed due to bookings. Only Teerasil Dangda is out due to injury. With the Thai champion playing at home and their own fans in the back they go into the match as favourite. Although Muang Thong found it hard this season to hit the back of the net. Anything else than a win would be disappointing.
Roughly the same is valid for Chonburi who will face Indonesian representative Sriwijaya FC. Sriwijaya is not unknown to us and nearly everything is told about them. Last year Thai Port defeated the "eagles" in the round of last 16 by 4-1 on away. Muang Thong United were beat by the Indonesian side in the first round of the
2011 AFC Champions League qualifier
back in February this year.
As Sriwijaya failed in the next round they had to play their trade in the AFC Cup. Nevertheless, Sriwijaya hardly knew to convince in Group F with 10 points out of 6 games and advanced by minor margin. Besides, the group phase held some substantial defeats for them. Against Sông Lam Nghệ An from Vietnam they lost 4-0 and against VB Sports from the Maldives the "eagles" managed to came away with just one point out of two games. After one third of the local season, Sriwijaya FC is just ranked 6th.
Chonburi knew more than just to convince at home. The "Sharks" nearly holding a clean sheet at home with 11 goals by conceding just one during the current AFC Cup campaign.