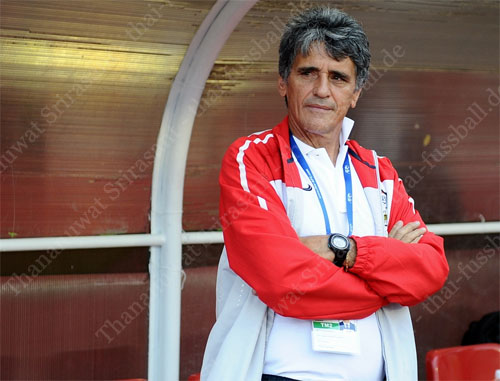 U16 coach Leones dos Santos
© Thananuwat Srirasant
Not loosing any of their game so far, Thailand under 16 qualified at early stage for the AFC U16 Championship in 2012. A 4-1 victory over Indonesia secured the proper tournament birth.
There is still one game day to play in Group G, but Thailand under 16 already booked their ticket for next years AFC Championship. In the fourth match of the group stage Indonesia could be beat by 4-1. Despite the defeat Indonesia still have a chance to qualify when they face Australia on the very last day. Both sides have 9 points on account. However, it took about one hour until the match between Thailand and Indonesia started to get pace. Two goals within five minutes (57' and 62') by striker Sittichok Kannoo gave Thailand the lead. Indonesia fought back and scored from the sport just a few minutes later to narrow the gap.