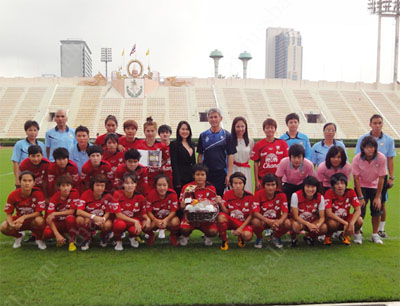 Thai women's national team 2012
image: © thai-fussball.com
With the AFF Championships ahead, official games are on the schedule for the women's national football team for the first time after a one year break. We take a look at the preparation and talked to team officials.

From 13 - 22 September the 7th edition of the AFF Women's Championship takes place in Vietnam. Defending champion Thailand, currently number 30 of the FIFA world rankings, is going to face Laos (82) and Malaysia (86) in group B. The fourth team of this group, Indonesia, has withdrawn at short notice. In Group A, Vietnam (31), Myanmar (47), the Philippines (85) and Singapore (92) are fighting for two spots in the semi-finals. For Thailand, the tournament marks the first official internationals since nearly one year. Back, that time the women's were able to lift the AFF trophy for the first time since the tournament saw his introduction in 2006.