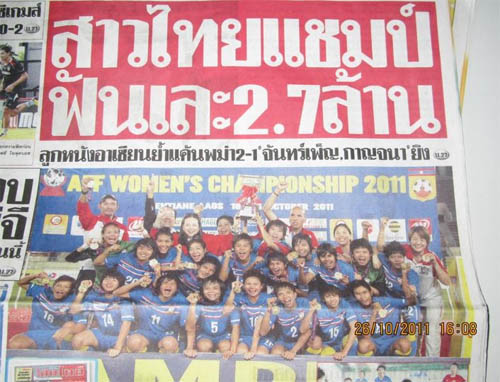 Honor to whom honor is due
After beating Myanmar 2-1 in the final of the women's AFF Championship this week, Thailand lifted the AFF Cup trophy for the first time in history. They are now "Champion of ASEAN", a well earned title completing a really successful year in Thailand's women football.
As expected, the group stage was no big hurdle for Thailand women's national team. 8-1, 5-1 and a 3-1 against the later final opponent Myanmar, were the results in the qualifying round. As winner of group B Thailand qualified for the semi finals and avoided arch rival Vietnam. Sovereign as Thailand, Vietnam won his group and clashed with Myanmar in the round of the last 4. Latter only underdogs, knew how to surprise at the end. Although for most of the time being the dominant team, and leading 1-0, the Vietnamese national side finally been knocked out. Thailand, playing the other semi final against Laos, did not hesitate and sent them home wining 4-0 to book a place in the final.