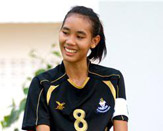 Taneekarn Dangda -
just as good as her brother
(c) Taneekarn Dangda
During the last week the qualification for the AFC U-19 Women's Championship 2011 took place. Unfortunately Thailand failed to qualify for the final tournament. Once more Thailand had to give the advantage to their archival.
It was just last year the ladies played the final round of the tournament. Drawn into group A, they finished last, behind North Korea, South Korea and Vietnam with no point on the board. No Thailand tried to qualify again for the final stage, with Warasak Upathumnarakhorn as head coach. He was responsible already last year. However, for that second qualification stage Thailand got direct entry. The campaign was played out of just one group and only the first spot guaranteed a place in the final tournament. U19 faced Chinese-Taipei, Uzbekistan, Iran and Vietnam.