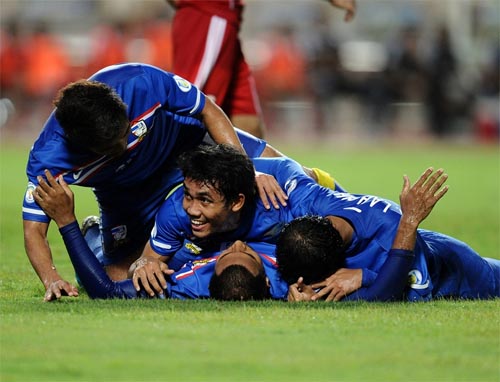 Celebration after the first goal
© Thananuwat Srirasant
In the second match of group D, Thailand celebrated their first three points. Winfried Schäfer kept his promise and his boys played attacking football throughout the night. Whoever found his way into the stadium, did not regret.
Far before the first whistle, dark clouds gathered over Bangkok and it was to fear the game would take place in wet conditions. Fortunately the rain God or was it the football God? had an understanding and was sending just a short down pour. Officially 19,000 spectators found their way to the Rajamangala stadium and hardly had to regret. Schaefer held his word and unleashed his flock with attacking football. The guests from Oman where slightly the favourites, considering they comfortably ranked higher than Thailand. However, there was not any sign of this over the full 90 minutes.