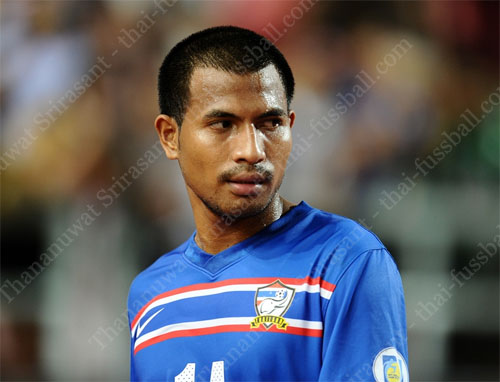 Sompong Soleb
Bild: © Thananuwat Srirasant
After Thailand lost to South Korea in the opening game of the 41st King's Cup on last Sunday, Winnie's eleven need to win against Norway, to stay in the tournament. However, missing fitness and injured players do not make things easy for Schafer. Not enough, with Sompong Soleb a player has "kicked" itself out of the squad today.
Sompong Soleb (Buriram FC) is no longer part of the King's Cup squad. And according to Schafer, he will never again be considered for the national team, as long as he is in charge. On Wednesday the striker produced headlines when he was taken up in the early morning by the police under alcohol at the wheel. According to reports he has driven his girlfriend to work and unauthorized went away from the player's hotel. The amount of alcohol which was proved, was more than permitted.