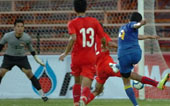 Chaikamdee taking a shot
(c) thaileagueonline.com
Thailand won their friendly against Singapore by one goal. Only 3.000 spectators found the way into the Yamaha Stadium. A kick off, later than 18:00 may would have drawn a few more people in.
Compared to the original nominated squad, Robyson was forced to name four new players by short notice. Suree Sukha, Nattapong Samana, Panupong Wongsa and Pipat Tonkanya have not been availabe after the last Premier League machtday. Kraikitti In-utane, Theeraton Bunmathan and Cholratit Jantakam replaced them. Singapore dominated the first half of the game mostly. Right after the start, Singapore could have the chance to made it one. Khairul Amri made his way into the box and was stopped by a Thai defender. But the referee didn't blow the whistle.