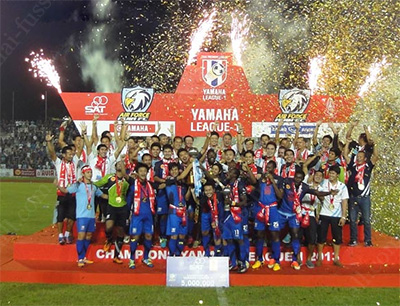 Champion Air Force United
image: © thai-fussball.com
A matchday before the end of the season, Air Force United secured the Thai Division One title and gained promotion to the TPL. Who will grab the remaining two promotion spots are still not decided and an exciting Saturday lies ahead of us.
Nine vain attempts, nine long seasons. Now, finally, Thailand's record champion is back in the top flight. A 1-1 draw on matchday 33 against Khon Kaen, with a concurrent defeat of PTT Rayong, was enough to seal the second division championship for Air Force United. The first trophy for the club in 12 years.