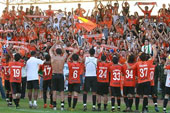 Chiang Rai celebrates
(c) thaileagueonline.com
2010 Thai Premier League Division 1 Season is history. All promotion and relegation battles are fought. Today, on the very last round of the season, two final spots remained to be hand out. One for promotion and one for relegation.
However the new Thai Premier League season will be enriched by marlins, beetles and dinosaur. At least those are heraldic animals of the respective clubs which gained promotion. Siracha FC (Blue Marlins), saved their place in the country's primary football competition already a few weeks ago and have been crowned Division 1 champion. Khon Kaen FC (T-Rex) followed them last week secures the second place behind the club from the east coast. Today, Chiang Rai United have been in the better position, ranked 3rd, over Songkhla and Nakhon Pathom. Just one point out of the last game would secure the promotion. But they had to travel away to take on Customs FC.