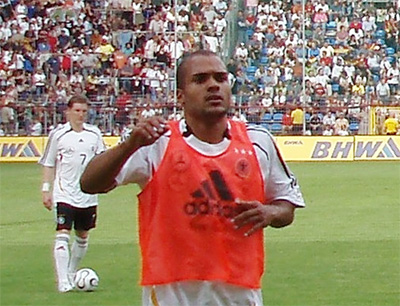 David Odonkor (2006)
image: © CC-BY-SA-2.5 Florian K
Most of the German football fans will remember this scene very well. World Cup 2006 and Poland is holding on to a draw. Stoppage time and David Odonkor spurts down the line, crosses in a magnificent ball and Oliver Neuville converts. Both went into history books and become heros.
Now one of both heroes, Odonkor, could continue his career in Thailand. On Sunday several media reported the winger is in contact with newly promoted Thai Premier League club Bangkok United. According to head coach Sasom Pobprasert the salary expectation is feasible and a trial is not necessary. However, the crunch point could be the physical state. Therefore Odonkor will have to be put to the acid test. Not too wrong. Over and over again David Odonkor was plagued by knee problems and had to pause several months in each case.