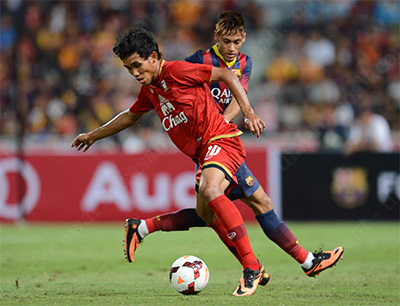 Teerasil and Neymar
image: © Thananuwat Srirasant
After more than 150 games, more than 70 goals and at the club since 2009 without cease, the time had come for Teerasil Dangda to say goodbye. To his fans, his club Muang Thong and the SCG Stadium.
Teerasil Dangda could certainly have fancied a nicer farewell from his fans and his SCG stadium. From the bench he had to witness Muang Thong's defeat and elimination from the League Cup against eternal rival Buriram United a week ago. Nevertheless, he was heading off for lap of honour right after the match, shook hands, gave autographs and was ready for pictures with fans. Just as one knows the down-to-earth striker.