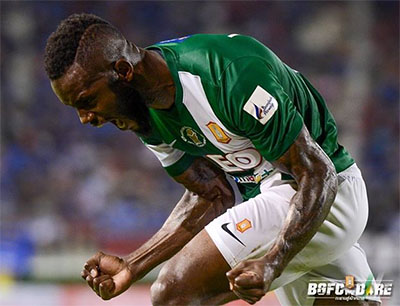 Lazarus Kaimbi celebrates
image: © Bangkok Glass FC
One single goal, late in the Thai FA Cup Final 2014 was enough for Bangkok Glass to win their first, much longed for , major domestic title. Chonburi who have missed out the TPL title a few days ago, left empty-handed again.
Bangkok Glass did it. The club is 3 million Baht richer and thanks to a goal of Lazarus Kaimbi, can put an important domestic trophy in his, nearly, yawning empty trophy cabinet for the first time. The Queen's Cup which the Rabbits could win in 2010 (and today is no more held) finally, gets some company. In addition Bangkok Glass grabbed a sport for the Play-offs to the AFC Champions League next year. Provided, the AFC confirms three slots for Thailand at the end of the month.