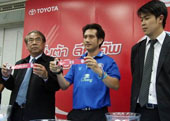 Auslosung
(c) thaileagueonline.com
Qualification round for the Toyota League Cup 2010 just ended yesterday. Today, the draw for the next round was held in Bangkok.
After a ten years absence, the Toyota League Cup was brought back to life. Initially all clubs from the top three divisions should participate in the competition. In total 106. However a few clubs decided not to start and withdrawn from the cup, prior to the qualification round draw. The day before the first match was played, Raj-Vithi und Chumphon withdrawn as well. Their opponents automatically advanced to the next round. With the 1st round all Clubs from the Thai Premier League will enter the cup. All games will be played from 28 August 2010 to 2 September 2010 in a round robin leg.