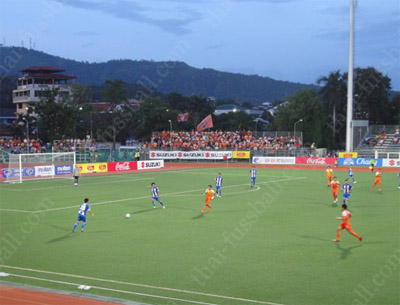 Sriracha vs Nakhon Ratchasima
image: © thai-fussball.com
31 encounters were to be seen in the first proper round of the Thai League cup. Small clubs challenged the big boys and sometimes were able to cause some upsets. But in any event more than to expect.
Our conclusion after the first round of the Toyota League cup 2012: very enjoyable. Exciting matches in which some smaller teams forced their bigger counterparts to play to the limit. Surely, some teams have not field its first line up entirely, focusing on the FA Cup. Although some saw themselves in a constrained position to bring on their stars later in the game to turn the result in their favor. But TPL side Samut Songkhram, did not had that choice. In an unforgettable if not even unique match, the guests came away with 0-1 win over Regional League club Kalasin.