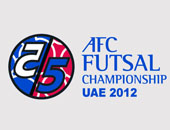 At the AFC Futsal Championship 2012, Thailand qualified for the quarterfinals. With no defeat coach Vic Hermans eleven could qualify for the knock out stage.
Since last Friday the Asian Championships in Futsal are underway. As expected Thailand won its Group A. In the opener against Kyrgyzstan, which at the end also could qualify for the quarterfinal, the Thais struggled. Though a hard-earned 2-0 victory marked a successful start. A
5-1 success over Turkmenistan
in the second game then nearly secured quarterfinal berth. Referee of the match was the Australian Scott Kidson to whom we will come back once again later this year, within the course of our World cup coverage.