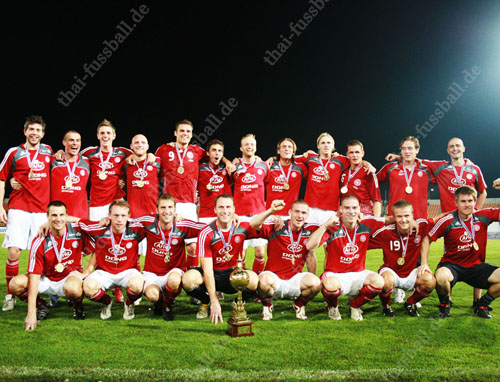 Dänemark XI - Winner in 2010
© Pongsakorn Tantajanya
Since quite a while the King's Cup appears on the official league calendar, in January. It was hard to believe since it appears, but a 41th edition of the tournament seems now to become reality as latest report suggest.
The King's Cup is a traditional football tournament to honor his Majesty King Bhumibol Adulyadej. It is held since 1968 and in January 2010 it was held for the last time when a league selected squad from Denmark lifted the trophy. Thai media did not reporting on a possible new edition yet, they more surprising the announcement of the Danish football association which has agreed to an invitation for January 2012. According to this, the Danish selection should travel to Thailand from 10 to 23 January. Morten Olsen looks forward to the competition as a good opportunity to test players with perspective. Furthermore it says the cup should take place in Bangkok. As host Thailand of course would take part beside Denmark. Remaining two teams are not confirmed and known yet.