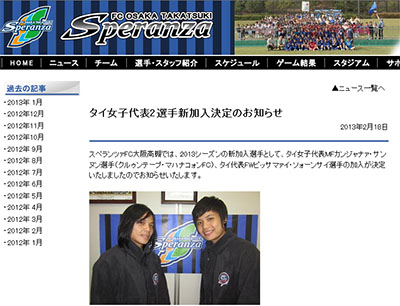 Kanjoren (le) und Pitsamai (ri)
On Monday, Japanese club Speranza FC announced the signing of two Thai internationals, Pitsami Sornsai and Kanjana Sungngoen. A surprise to many, even to those, which are fairly interested in Women's football.
Still on Sunday evening, and in a quite nebulous way, Pitsami Sornsai informed through her official Facebook page that she would make a start again on her aim. Her aim and dream that is to play abroad. Football with no doubt, is the passion of Thailand's current best female striker, football is what she is living for and she is highly motivated to take the next step in her career. Other than most of her male counterparts, she does not worry about leaving her "comfort zone" and now, besides Kanjana, she becomes the first woman from Thailand to sign a contract with a professional club abroad and to play in Japan's women''s elite league. Even several heavy injuries over the past two years could not detain her.