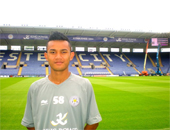 Joe at King Power Stadium
courtesy Joe Khmabor
When we "discovered" Joe Khambor about one year ago and invited him for a first interview, we did not know which reactions this would cause. Since then things have a changed a lot for Joe.
In December last year Joe was on trial with Muang Thong United, and even recently with Leicester City. It seems furthermore Thailand's National team could knock on it's door. Time for us to talk to Joe once again and to give us an update. We talked with him about his time with Muang Thong and Leicester, and we learned that Fish & Chips is nothing for Thais.