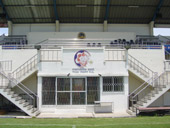 Main stand of PAT Stadium
(c) Thai-fussball.de
Besides all the matches we've seen during our last stay in Thailand, a stadium tour through Bangkok was on our schedule as well. In Bangkok and its vicinity you can find a lot of stadiums to visit. But probably you would need a couple of days to see all of them. In total we selected four, those have been, the PAT Stadium, Thephasadin, Suphachalasai and Rajamangala. A visit to national museum of sport was on top of it.
Around 7 o'clock in the morning we headed towards Bangkok by bus. Unfortunately our ride took longer than planed and we started to worry about our schedule. Finally in Bangkok, we gave esgede a call and arranged a meeting with him at the MBK shopping mall later today. Now it was time for us to move on. PAT Stadium was our first place to visit. The stadium can be found at Klong Thoei district. It's very close to the Sukhumvit Area in Bangkok. Klong Thoei, located at the docklands, is one of the poorest area in Bangkok and the home of Thai Port FC. By underground train, we went on to the "Queen Sirikit Convention Center" Station.