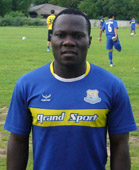 Kengne Ludovick
(c) thai-fussball.de
During our recent stay in Thailand, we visited the training of Pattaya United. Beeing there we tooked the chance to made an interview with Kengne Ludovick.
Ludovick is a 26 year old striker, playing for Pattaya United since the 2010 Thai Premier League season. In elefen games, he could manage to score six goals so far. With that number, he is sitting in the second place of the goalscorers list in Thailand, right behind Therdsak Chaiman from Chonburi FC. The striker from Cameroon played 5 years in the Singpore S.League. For Balestier Khalsa and Home United he scord nearly 100 goals in the S.League. in 2006 he was celected as the yout player of the season, 2008 he was elected into the squad of the Yeo's People Choice Award.
thai-fussball.de:
What was the reason for you to come to Thailand? I think Singapore is a nice place. Isn't it?