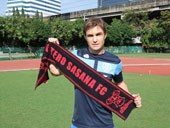 Chris Brandon
(c) becterosasana.in.th
Chris Brandon is one of the new signings from BEC-Tero. This article features a small interview with him. He will tell us something about his career, how he came to Thailand and what he expects from the season.
Chris Brandon, is a 34-year old English player who recently joined Thai Premier League side BEC-Tero Sasana after a successful trial. Alongside his head coach Peter Butler he will raise the number of English lads in the Thai Premier League to five. Brandons career just kicked off in the age of 23. Hey played for Torquay United, Chesterfield and Huddersfield. For latter ones he appeared 135 times while scoring on 12 occasions. Huddersfield Town by the way was the same club where Thai legend Kiatisuk Senamuang tried to make his mark between 1999 and 2000. After a brief loan spell with Blackpool Brandon joined Bradford City in 2008. During the 2009-10 season he was teammate to Zesh Rehman who recently joined Thai Premier League Champion Muang Thong United.