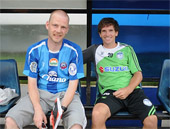 Justin Moose (right)
courtesy Sriracha FC
Justin Moose is 27-year old and since beginning of the season he plays for Sriracha FC in the Thai Premier League. While he was injured with a hamstring, we took the chance and interviewed him last week during Sriracha FC training.
Just 1.73 height, Justin can be considered as small player when it comes to football. May that one be a reason, it have prevented him to become a star as American Fooball player for the Carolina Panthers, it doesn't prevent him to play as a footballer in Thailand. Combined with his calm personality, probably it makes him perfect to fit in Thai football. Becoming a regular starter for his new club in no time, and with his personal best season performance against Osotspa-Saraburi last weekend, he most probably proofed that.