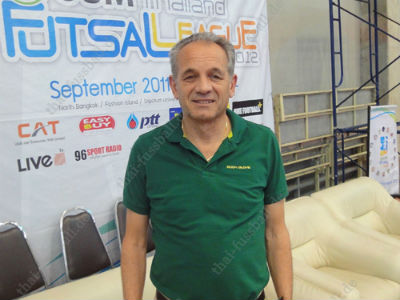 Vic Hermans
image: © thai-fussball.com
As we all know the Futsal world championship is due in just a few weeks and the tense is slightly rising. Thailand's Futsal league season 2012-13 saw its kick off last week and along the game-day we took the opportunity to talk to Thai head coach Vic Hermans.
The countdown to the Futsal World Cup is winding down relentlessly and Thai national team coach Hermans is left with a good 2-week to prepare his players for the
big one
. A special problem once more is the unfathomably bad planning at the FA, because the last two test games already date back seven weeks. And right in the middle of a time, where full concentration should be with the preparation for the World Cup 2012, the new Thai Futsal League season saw its kick-off for only one single matchday. At least, finally Hermans could observe his players after a long time under competition conditions on the parquet.