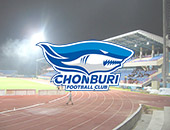 Chonburi FC caused a drum beat last weekend on the transfer market with his latest foreign signing. The 24-year-old Irfan Bachdim, Indonesian international, have put his signature under an one year contract.
The current TPL transfer window, open since mid of December, went rather quietly so far apart of a few signings like the Austrian Roland Linz with Muang Thong United. Now Chonburi FC caused a drum beat on the last weekend with Irfan Bachdim putting pen to paper. Already at the beginning of the year the 24 year-old international spent a few days in Thailand when being on trial with BEC Tero Sasana. However, he apparently hasn't been able to convince the persons responsible. Shortly after it he received an invitation from the
Sharks
for a trial during the "Chang Chonburi Tournament" which started on the 24 January and runs until the 30 January.