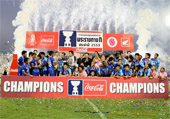 © Thananuwat Srirasant
After 2008 and 2009, Chonburi won the Kor Ryoal Cup for a third time and can be called Kor Royal Cup record title champion.
While Channel 7 was broadacasting the match live, Siam Sport re-run the Thai FA Cup final from last November. If you are not familiar with both clubs, you could think to see a live broadcast on Siam Sport. Only regular followers might have see the different between the match from last November and last weekend. Not only the final result was a copy of last years Thai FA Cup final, the course of the game was too.