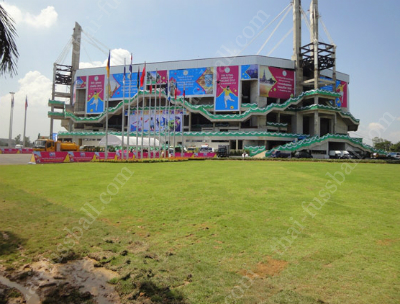 Futsal Arena as of 30 October
image: © thai-fussball.com
Confidence everywhere. With the BMA, the local organisation committee and the construction workers to get the Bangkok Futsal Arena approved for at least six games. But after a final inspection by FIFA and a decision made this Tuesday, it is "Game Over" for the expensive venue.
After a successful parquet flooring and a security test with 650 people, Bangkok Metropolitan Administration (BMA) was confident and hopeful on Monday that the arena would receive green light from FIFA to host some games of the knock-out stage including the Final. Several issues had to be fixed and to put in place like a submission of an emergency evacuation plan, the provision of an insurance policy to cover all risks, and the finalisation of a CCTV security system.