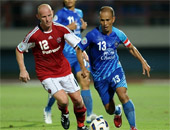 Nicky Butt and Therdsak Chaiman
© Thananuwat Srirasant
Better late then never, a brief round up about matchday 2 of the AFC Cup after which both Thai representatives are still unbeaten.
After Chonburi FC humiliated TOT SC six nothing last weekend they were more than ready to face South China AA from Hong Kong. Wednesdays match marked the first ever real home game for the club on continental level. 2008 and 2009 Chonburi had to kick their AFC campaigns in Bangkok.
With the likes of Nicky Butt and Mateja Ke˛man in the ranks of the visitors, even two former European football stars were there to bestow honour at the premiere. Right before the kick-off, still in the tunnel, Ke˛man had a chat with his fellow Darko Rakočević from Chonburi. Unsuspecting what the next 90 minutes will have to offer him.