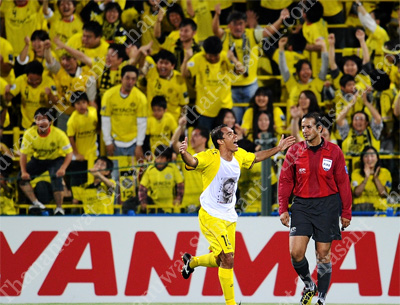 Domingues celebrates his goal
image: © Thananuwat Srirasant
Buriram and his president Newin Chidchob were confident ahead of today's tie against Kashiwa and hoped for one or even three points. It did not came trough and the Thai side lost by one goal. Buriam now is under pressure and needs to go nap on the very last day.
Coach Attaphol Busphakom was sending out his best available team with Ohandza and Achempong up front. Only Apichet Puttan had to be replaced with Jakkrapha Kaewprom. During the first 10 minutes both sides clashed without wasting time on tactics and it promised to become an entertaining encounter. At all events, Burriam defender Ekwalla had a short evening. We named him as a weak spot in our preliminary report and he, unfortunately, did not prove us wrong. Quite early in the game he received his first yellow. After stepping on opponents foot, shortly before half-time, he saw his day work done.