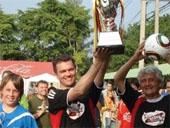 SC Galaxy Pattaya
Defending Champion

A year past and it is time for the annual charity football tournament of the Hoffenheim Supporters Bangkok. For third time now the tournament will take place. The venue for the event is the campus of the Swiss School Bangkok in Minburi.

Eight amateur teams will fight for the cup on Saturday 29 January, including defending champion SC Galaxy Pattaya. A lot of VIP's are expected within the spectators, like ambassadors from several European countries. The tournament offers plenty of family fun and entertainment, a large bouncy castle, cinema, arts and crafts, a flea market and a family rallye and massage. German food, beer and soft drinks will be provided throughout the day.

The most important thing of the tournament, of course, is the charity. Last year the Hoffenheim Supporters were able to collect around 500.000 Baht for charity purpose. All proceeds from the event will be used to support Thai children in dire need of medical treatment. With the money from last year, a two month old baby received treatment being sick with lung inflammation. But that is just one example.
The event will start at 10 a.m.and the first match will kick-off at 11 a.m. The final is scheduled for 4 p.m. You can find the Swiss school in Minburi, Ramkhamhaeng Soi 184. Admission is free.