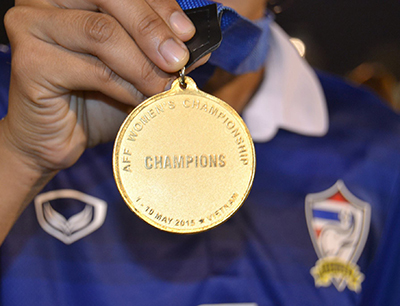 2015 AFF winners medal
image: © Nguyễn Minh Khang
Things always seem to happen when you least expect them. And so with a 3-2 win over Myanmar Thailand's women's national team could lift the AFF Championship trophy again after a four years break.
The AFF Women's Championship 2015 was just planned as a stage on Thailand's Road to Canada. But the plan to gain match practice, advance to the semi-finals and off back home with no player injured surpisingly resulted in the title. The tournament could not have start worse for Thailand being beaten by Australia's "Young Matildas" 3-0. Not that a defeat against the ladies from
Down Under
was not expected or taken into account. But looking back at the game one is still rubbing his eyes in disbelieve on how theThais could lose this one. Thailand was the better side for most of the game and showed its best performance of the tournament. Especially during the first half. But lack of concentration, individual mistakes and good football for about 30 minutes in the second half, have came Thailand costly.