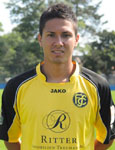 thai-fussball.de recently had the chance to ask some questions to the new national player Peter Laeng. During this interview Peter is talking about his first cap for Thailand, his aims and his family.


Since 2007 Peter Laeng is playing for second division side Schaffhausen FC in the Swiss Challenge League. During his time with the club he had 48 caps and could achieve 4 goals. Among others, in his youth he played for Freiburg SC in Germany. Since July 18, 2009 he is a full national side player for Thailand. He got substituted in the friendly against Pakistan. 4 days later he played in front of 60.000 people against the giant Liverpool FC. Laeng was born in Zuerich to a Swiss father and a Thai mother.
thai-fussball.de:
Peter, the winter break is just over. How was the preparation for the second half of the season for you?
Peter Laeng:
The preparation wasn't that good for me. I was coming from the game against Jordan with a bursitis. Therefore I was only able to practice in reduce intense for about 2 weeks. However now I am fine, and we won our first game, last week, with 3:1 against Locarno FC.