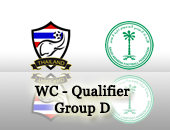 After last weeks friendly against Jordan, Thailand is going to face Saudi Arabia on Tuesday in a crucial world cup qualifying game of group D. Winfried Schaefer is having all players aboard and can draw on unlimited resources.
Though the goalles draw against Jordan sounds a bit cheerless, Winnie was able to draw a few good points out of the warm-up. Beside the regular a few rare starters got their chance to shine. Thailand did well against a physically strong side from Jordan, however, once missed a few clear chances in front of the goal. In the second half Sarawut Masuk gave his debut for the national team and knew to impress. Sarawut, under contract with third Division side Chamchuree United, played in the same classes like Kawin and Theeraton a few years back.
Datsakorn Thonglao and Teerasil Dangda were spared while Sompong Soleb had to leave the pitch after 33 minutes because of injury. As a precaution he was brought to hospital but reported healthy for the game against the Saudis. Bangkok Glass striker Chatree Chimtalay got another chance to play, and Schaefer praised him in the post press conference. He praised him as big talent, and regrets very much that he doesn't get more time on the pitch for his club.
Thailand - Saudi Arabia
The qualifier against Saudi Arabia can point the way ahead for both sides and therefore it's crucial. If Thailand could come away with three points while Australia beats Oman, we would strengthen our position in the group with six points. Oman and Saudi Arabia would stick at bottom with just one point each out of three games.
However, before all this the "dear God" put not only 90 minutes, even more, from Thai point of view, a pathetic statistic. Up to now Thailand and Saudi Arabia faced 12-times and Thailand won just on one occasion. That was in 1984 away from home. The only time both played against each other in Bangkok was in 2001. It was a World Cup qualifier, Thailand eventually lost 1-3. Looking at the line-up from 2001 it reads like the who-is-who of Thai football nowadays. Zico, Dusit, Sutee, Therdsak, Tawan just to name a few. Two out of the line-up from 2001 can be seen in action on Tuesday. Winfried Schaefer assistant Surachai on the touchline and Niweat Siriwong on the pitch. Seskan Piturat (today North Bangkok FC) scored the only goal for the Thais in 2001.
As already mentioned, the coach can draw on unlimited resources. Datasakorn and Teerasil are reported fit and doubtless both are to start. But he had to make a hard decision on the man between the posts. Caused by Kawins absence due to injury in the first two qualification matches Sinthaveechai (Kosin) received his chance. Apart from a mistake in the game against Australia he was showing well, performed well and he definitely seems to be on his way back to old form. Both keepers are on the same level at the moment, and it can be called luxury if a coach has the choice between such top keepers. For the match against the Saudis it looks like the German is going for Kosin though. Compared with the game against Oman changes in the starting 11 are hardly to be expect and there are no reasons for. Winfried Schäfer always knew how to surprise us up to now anyway.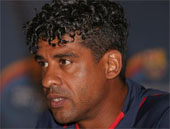 Frank Rijkaard
Foto: Keith Furman
Lizenz cc-by-sa 3.0
His opponent on the other side of the touchline is no one less than Frank Rijkaard. Most of the Germans presumably still associate him with his spit attack towards German striker legend Rudi Voeller during the world championship in 1990. Rijkaard coached Galatasary Istanbul before he signed with Saudi Arabia and was at the helm in Barcelona from 2003 to 2008. With the Catalans he won the national championship twice and the UEFA Champions League in 2006. Since August he is in charge for Thailand's opponent and queues in on an illustre coaches like Mario Zagallo, Carlos Alberto Parreira and Otto Pfister. The side from middle east participated the World Cup tournament four times. Last time in 2006 in Germany.
The maybe best known players from Rijkaard's Eleven might be striker Yassir al-Qahtani and midfielder Mohammad Al-Shalhoub. In 2007 Al-Qahtani was chosen Asias player of the year. All together the team is a mixture of young players and old broadswords, most of them taken part in a world championship already.
Unfortunately, the game clearly stands behind current events happen in Thailand. The flood disaster with many have lost their homes and belongings or still fear losing it, presumably result in less spectators than planned. Winfried Schaefer and his Eleven is aware of the fact and would like to help bring back a smile on the face with a victory, to make the people forget about the disaster at least for a few minutes.
For those who would like to resist the floods, tickets are still available and on sale at the gates. For those who would rather like to stay at home, NBT 11 is broadcasting the game live from 18:00.