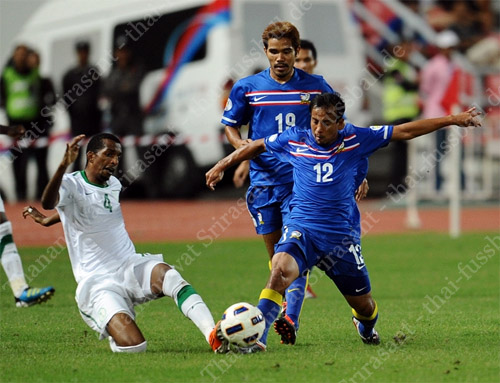 Adul Lahso (right)
© Thananuwat Srirasant
There are games, they cause different opinions. The goal less draw between Thailand and Saudi Arabia in the third game of the World Cup Qualifying stage, belongs with no doubt.
Should there be gladness and satisfaction about the fact Thailand came away with one point from the tie against Saudi Arabia or not, should there be praise about the performance or should it be demonise? Probably nothing to fit that really and the truth may lies in the middle. After Thailand showed good performances against Oman and Australia, some may made a thick to this game. Particularly as the Saudis did not knew to be convincing against Oman and Australia. However, Frank Rijkard's team showed clearly improved against the Thais. On both side chances were rare to seen. Thailand did not play bad, at least until they reached the edges of the visitors box. Within the same clever finish was missed not only on one occasion.
After 33 minutes Niweat Siriwong from Pattaya United exactly stood at right place on the line and could prevent the worse. This definitely been the visitors best chance throughout the 90 minutes. Middle of the second half the ball already hit the net, however, the goal was ruled away because the referee, rightly, whistled a foul on Kosin.
On the other side Thailand biggest chance eventually came by Datsakorn with 15 minutes to play in the second half. His free kick barely passed the post. With the time the game went on Teerasil more and more became isolated up front and some moves reminded of the game against Australia. Schaefer on the touchline tried to push his boys forward and with Sompong Soleb and Chatree Chimtalay he even brought on two more strikers.Though it doesn't helped. Maybe Winnie made the wrong substitutions as a creative midfield player would have been the solution. Rangsan, Suchao and also captain Thonglao were disappointing in this regard overall.
Some may have missed the team play on the part of the Thais, the fighting spirit was there with no doubt. And this was one reason why the home side could away with a point. After this game Winnies team still sits in second position with four points, followed by Saudi Arabia with two and therefore everything is still in their own hands. A draw in the return match on the 11 November is essential to keep realistic hopes alive. At least, after this game on Tuesday, Thailand for the first time got a point against the 4-times world championship participant since 1984.
In preparation of the return match, Thailand will play a friendly against Nepal on 3 November before heading to Qatar for training camp on 5 November.
Match Centre
Thailand:
Sinthaveechai Hathairattanakool - Cholratit Jantakam, Niweat Siriwong, Supachai Komsilp, Jakkraphan Kaewprom - Datsakorn Thonglao (c), Surat Sukha (58', Suchao Nuchnum), Rangsan Viwatchaichok, Adul Lahso, Suree Sukha (79', Sompong Soleb) - Teerasil Dangda (90+2', Chatree Chimtalay); Trainer: Winfried Schäfer
Yellow: -
Goal: -
Saudi Arabia:
Waleed Abdullah - Osama Hawsawi, Abdullah Mohammed Al Dossary, Osama Mabrook Al Harbi, Hassan Mouath - Mohammed Noor, Saud Kariri, Ahmed Al-Fraidi (89', Ahmed Otaif), Taisir Al-Jassim, Abdulaziz Saeed Aldawsari (57', Nasser Al-Shamrani), - Yasser Al-Qahtani (81', Naif Hazazi); Trainer: Frank Rijkard
Yellow: Nasser Al-Shamrani
Goal: -
Stadium: Rajamangala Stadium, Bangkok
Attendance: 42.000
Referee: Ravshan Irmatov (Uzbekistan)
Thailand - Saudi Arabia (full match)