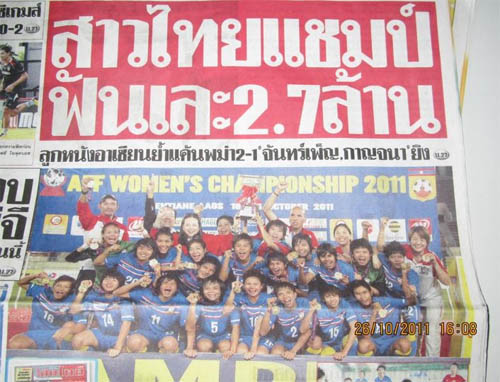 Honor to whom honor is due
After beating Myanmar 2-1 in the final of the women's AFF Championship this week, Thailand lifted the AFF Cup trophy for the first time in history. They are now "Champion of ASEAN", a well earned title completing a really successful year in Thailand's women football.
As expected, the group stage was no big hurdle for Thailand women's national team. 8-1, 5-1 and a 3-1 against the later final opponent Myanmar, were the results in the qualifying round. As winner of group B Thailand qualified for the semi finals and avoided arch rival Vietnam. Sovereign as Thailand, Vietnam won his group and clashed with Myanmar in the round of the last 4. Latter only underdogs, knew how to surprise at the end. Although for most of the time being the dominant team, and leading 1-0, the Vietnamese national side finally been knocked out. Thailand, playing the other semi final against Laos, did not hesitate and sent them home wining 4-0 to book a place in the final.
In the final against Myanmar, Thailand controlled the game right from the start. But it took them 28 minutes until skipper Junpen "Jobpy" Seesraum opened the account. Jump for joy just a few minute later as Kanjana Sung-Ngoen extended the lead. Myanmar women national team fought with brave and with one minute to play in regular time, got one back. But three minutes added time where not enough and the score remained 2-1. Undefeated and with a score sheet of 22:4, the Thai ladies lifted the trophy in the evening sky.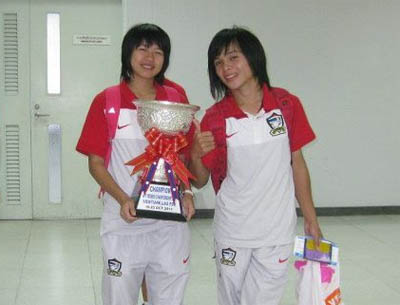 Girls with the cup
courtesy Surasa Khongprasert
The top scorers on Thai side were Nisa Romyen and Junpen Seesraum. With Duangnapa Sritala, Waraporn Boonsing, Pikul Khuanpet, Chidtawan Chawong and Pitsamai Sornsai even regular starters were absent from the tournament because of injuries.
Taking a look at the results of the Indonesian women's national team, it doesn't make wonder why Indonesia, as host of the SEA-Games in November erased the women's competition from the schedule. 0-11 against Laos and 0-14 against Vietnam, with just one victory against Singapore, speaks volume. Sad for out ladies though, as they could have one more chance to grab another title.
However, wining the AFF championship title should be balm for the soul after substantial defeats in the final round of the Olympic qualifiers in September. On the part of the players, coach Piyakul Kawnamkang is enjoying big trust. It remains to hope that he will be around next year to be able to speed up a further steady development of the women's national team.