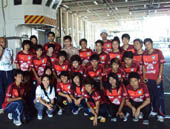 Excursion in Sattahip
courtesy Pikul Khueanpet
This Sunday, Thailand women's national team will start it's Pre-Olympic qualifying campaign. They hope to succeed like Thailand men olympic team and follow their counterparts into the second round.
In so doing, Thailand women's will have to do much harder than the men. They will play in one group in a one-round league format with Myanmar, Vietnam, Hong Kong and Chinese-Taipei. Only the top-two ranked will advance to the next round. Different to the men Olympic tournament, there is no age restriction for the ladies. The qualifying tournament is from 18 March till 27 March and Chinese-Taipei is the host. With latter to face at first on Sunday followed by the matches against Myanmar, Vietnam and Hong Kong, it means 4 matches within 8 days for the ladies.
Unfortunately and as usual, there was no coverage in the Thai media ahead of the tournament. Nothing about the preparation or the tournament itself. Official Website of the Thai FA, doesn't even list a final squad.
FAT General secretary Kosinkar Ong-Arj about a possible drop of the women's tournament from the SEA Games later this year "FIFA has a clear policy to develop female football and to make it as popular as the men." Taken into account Thai FA president Worawi Makudi is responsible for women's football on FIFA site (so for the whole world) it leaves us with a few questions marks about the information strategy of the Thai FA.
Well, the good things is that nowadays you have social networks like Facebook. We were able to find out the ladies had a practise camp at Sattahip. Arch rival Vietnam by the way preferred to prepare on site in Chinese-Taipei. This may help to be more fine with the cold wether than our girls. They are arrived safely in the meantime, but reported that is very cold. Two matches have been already played and here are the results: Vietnam v Hong Kong 4-0 and Chinese Taipei v Myanmar 1-1
Regarding the final squad, at least the FAT seems to have a sent a paper with a list to the AFC. And so here is the 20-women's squad.
Goalkeepers:
Waraporn Boonsing, Yada Sengyong
Defense:
Darut Changplook, Thidarat Wiwasukhu, Duangnapa Sritala, Sunisa Wongsrikaew, Khwanrudi Saengchan, Pikul Khueanpet, Sunisa Sangthaisong
Midfield
:
Anootsara Maijarern, Junpen Seesraum, Warunee Phetwiset, Chidtawan Chawong, Wilaiporn Boothduang
Strikers
:
Pitsamai Sornsai, Nisa Romyen, Taneekarn Dangda, Kwanruethai Kunupatham, Nuengruethai Phaikhet