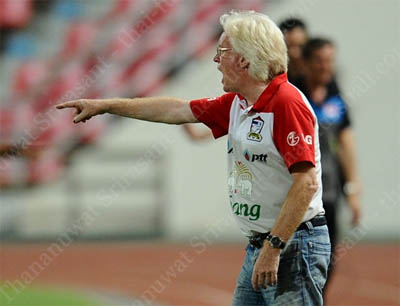 Danke Winfried Schafer
image: © Thananuwat Srirasant
It loomed. No it doesn't. Not really? Or did it? Quite exactly two years ago Winnie Schafer signed a contract as national team coach of Thailand. Now finally he has announced his departure from the land of smile to become Jamaica's head coach.
In the night from 17 to 18 July Winfried Schafer has announced his farewell from Thailand. After being at the helm of Muang Thong United for recent weeks, the coach gently wave goodbye. In the middle of the night and without any sign in the media Winfried Schafer informed the public about the fact that he finally will leave Thailand behind to take on new duties.
As the German informed, Jamaica will be his next station. There he takes over the national team, which still hopes to qualify for the World Cup 2014 in Brazil. With currently 2 points on account, Jamaica is six points behind a qualification spot. The USA with Jurgen Klinsmann in charge leading the table and the two Germans are going to clash on 11 October.
A good 6 weeks ago Winnie agreed to the Thai FA to end his contract. Only few days later he was introduced as new coach of reigning champion Muang Thong. There, he did not signed a 6-months contract, like reported by many, until end of season. He only agreed to help the club for a time being. Already on 7 June we reported that he keeps open to himself to leave the club any time. What he puts into action now.
After an opening defeat, the team won four games in succession under the management of the 63 year-old. During an interview on the edge of a All-Star game against BVB Dortmund in Germany, he betrayed that he has found the team in an ill state and he had to operate like a doctor. Now, according to Schafer, the team in a good state.
Of course a departure of Schafer from Thailand, sooner or later was on the cards. But after the latest success with Muang Thong, hope was there he perhaps would stay beyond 2013. Because he fulfilled his task with passion and fire like he is known for. Now - his farewell.
Gently say goodbye. And so we do: and bow with a Thai Wai. Danke Winnie.