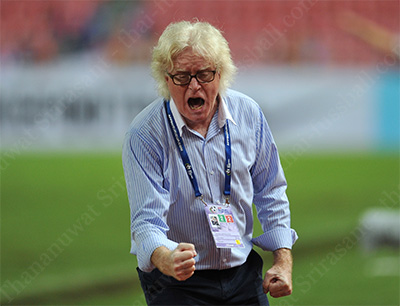 Winfried Schafer celebrates
image: © Thananuwat Srirasant
It is been a while now since we sat together with Thailand's man in charge for our first interview in 2011. A lot of things happened since and equipped with its knowledge of 2013 a second one is overdue. And here is our two-part interview with Winfried Schafer.
Since 21 month now, Winfried Schafer is at office as coach of the Thai national team and exiting times are behind him. After his side barely missed the third qualification round to the World Cup 2014, Schafer was close to step down. However, he remained. In December his team showed a breathtaking performance during the Suzuki Cup with Singapore eventually to spoil the party. With no doubt most of the fans back him. However, according to the Thai press, it is believed his day's are numbered if Thailand won't be able to beat Lebanon next week in a crucial Asian Cup Qualifier.
All this was a reason enough for us to meet again with Winfried Schafer for a second interview after July 2011. In this two-part interview he is talking on the cooperation with the FA. What he thinks about football in Thailand and above all what needs to be changed, from his view, to close to gap to nations like Japan and South Korea.
thai-fussball.com:
In retrospect on your start and in consideration of that you knew little about football in Thailand, what pleasantly surprised you the most?
Winfried Schafer:
Quite clearly the big enthusiasm of the fans. I was told during the contract negotiations that it is also a matter of making football in Thailand more popular. So I assumed that people would have really no big interest in domestic football. However, this is not the case. The people root for us and support us. This provides a lot of strengths to us all.
Positively I was also surprised about the young generation and the amount of talented players here in Thailand. If one has so wonderful prospects like Thailand, one have to make sure to create the best conditions. There is so much potential, now one needs to put things on the right track. Precisely because I see all this, I am so critical sometimes.
thai-fussball.com:
Which developments can be identified in players or in Thai Football since your arrival?
Winfried Schafer:
At some clubs the fitness of the players have improved. In the past, four to five players showed signs of cramps after 60 minutes. Today this does not happen so often. There is a change in thinking with regards to professionalism. The clubs now pay more attention to aspects which one before didn't pay much attention to it or totally has faded out. Food, for example. This includes the administration of electrolytes and magnesium, medical care, progressive training. And of course the internationals introduce their experiences like in any other country. For example, they can play different systems and switch faster during a game.
"...in two to three years we can catch up with Japan and South Korea – if working conditions are proper."
thai-fussball.com:
With Narubodin Weerawatnodom, Chanathip, Kawin and others you have brought in many young players. What have made you so sure to bring such young players without hesitation; even in difficult situations?
Winfried Schafer:
I have observed these players for a long time and specifically used them. So they were able to gain confidence. Moreover, I have told them that they are allowed to make mistakes. Because it's absolutely normal and part of the progress - but they have to learn their lessons from it. It is important not to overwhelm such talents with responsibility immediately. Otherwise they cannot unfold their potential. I always back them. I protect them, I do everything to develop them, and to make them better with every time they visit the national team. These players are the future of Thai football.
As a responsible, good coach you not only think about today and tomorrow. Even if it is often imposed by the corridors of power. As a coach one thinks of the development in one or two years. Today I say, with these boys, if they are also promoted at club stage, Thailand will win the SEA-Games. And in two to three years we can catch up with Japan and South Korea – if working conditions are proper.
thai-fussball.com:
What are the biggest weak points of the Thai players in your eyes and how can be worked on it?
Winfried Schafer:
As soon as we play against strong international opponents, the players must adapt themselves to a fast game. There isn't much time to control the ball, to get an overview and passing the ball. Now the problem is, domestically, losing the ball rarely results in a goal against you. But on international stage, your opponent is waiting for your mistakes and you will be punished. Your opponent mostly scores a goal from such situations. With specific training you can work on it. But only up to a certain degree. We don't have the players together so often of course.
For the Suzuki Cup, we had all players together for a longer period of time and during the tournament one could see that our game was substantially quicker than before. The work must be done at the clubs - above all in the youth field - therefore, I insist on a youth league. But at the end; only friendly games against strong teams help us. This is the vital challenge, the crucial lesson. We don't have this problem only with the national team, but also with teams playing in the Champions League by the way. Therefore, a cooperation between the top clubs and us, the national team, is so important and makes sense. The clubs have a benefit from every high-quality friendly the national team is playing.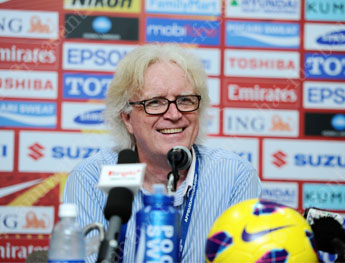 Winfried Schafer
image: © Thananuwat Srirasant
thai-fussball.com:
Suddenly after the Suzuki Cup there was a lot of criticism with regard to the size of your staff. How do you think about that?
Winnie Schafer:
I have the impression, there is a vanishing small minority which speaks of this subject. I think you know that my team, and if I talk of my team, I not only include the Germans, but also always the Thai members, totally corresponds to what you can see at other national teams nowadays. In Malaysia just as in Japan. Other countries have even bigger permanent staff. At ours, nearly everyone of us takes over duties of others. Otherwise it wouldn't work.
Maybe it is rather about the fact that there are many Germans? This would be absolutely incomprehensible for me. I have put together the best possible team. People who are very diligent, professional and conscientious. People, who can work very well together. Why should it bother somebody which nationality is to be found with us? Worawi Makudi knew exactly what he wanted when he signed me and he knew very exactly why he asked me to put my staff together independently. Every position is taken ideally and we do a good job.
thai-fussball.com:
Is the training here in Thailand sufficient to prevent injuries? In which state do the players report to the camp? And how injuries are treated or to be precise does the national team has an advantage, compared with the clubs, to cure injuries faster?
Winfried Schafer:
There we are again with the question after the German members of the stuff. Thailand has excellent hospitals. The "Bangkok Hospital" with which we work together is incredibly impressive and has wonderful doctors. But for quite obvious reasons there will be less specialists in field of sports medicine with focus on football rather than in Germany, England, Spain or Italy.
The history of football in Thailand is still young. There was no possibility at all to collect experience in such a field. And that's why there is a problem with some kind of injuries in some clubs, which you would not find in other countries. I can only advise every club, which would like to be successful in the long run, to have the courage to send his team's doctor or the physiotherapists to Germany or England or any other European country with football tradition, to look over experts shoulder.
This should be no insult. It's just normal that one would like to improve in his area. So one looks at other people with more experience and how they work. So here the cooperation with the German Football Association could be helpful. My son has specially raised this point, although it does not really belongs to standard terms of such a partnership. In this respect, yes. By our very experienced physiotherapist the players have an optimum care with the national team. But also by our very experienced fitness coach [Norbert Hauenstein, worked at Bayern Munich for ten years, ed.], who forms the regeneration optimally.
"The Kuwaitis were fit, aggressive and awake."
thai-fussball.com:
Which influences do you have on the choice of the places for training camp? Chiang Mai was not ideal, it's said. So how contented are you with the field of the Chang Everton Academy? On the distance between Saraburi and Nakhon Ratchasima there is a national training centre. Wouldn't this be an option from time to time?
Winfried Schafer:
I know very exactly what is necessary and I communicate this quite clearly. Where we will end, is another question. Chang Mai was rather bad because the pitch was in a catastrophic state. The field of the Chang Everton Academy is not to bad. The training centre you were asking about is more designed on the needs of a youth team.
thai-fussball.com:
Why it always needs to have such a long preparation time for the national team? Normally (in Europe) the players come, listen to what is told, get some training and take on the game.
Winnie Schafer:
Simple answer. Because it is still absolutely necessary at the moment.
thai-fussball.com:
Was it one reason for the Kuwait defeat? And wasn't it a mistake to stand up high against such an opponent strong on the counter-attack?
Winfried Schafer:
There were two mistakes. The training camp started too late and we had no test game. We were not aggressive enough and sufficiently awake. This is the result if there is not enough game practice against team from Arabia. And is weighs heavy, because Kuwait was able to prepare in a high-class tournament. The Kuwaitis were fit, aggressive and awake. Our players were lacking of fitness, because all of them were in the state of preparation for the new season.
thai-fussball.com:
Do you have any explanation of missing friendly games or short-term cancelations?
Winfried Schafer:
No I don't have and I still haven't heard one.

Watch out for part two of the interview, which will be up on this site in a couple of days.