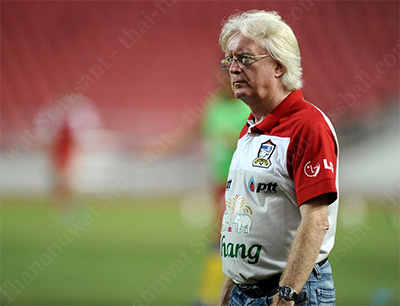 Thai coach Winfried Schafer
image: © Thananuwat Srirasant
It is been awhile now since we sat together with Thailand's man in charge for our first interview in 2011. A lot of things happened since and equipped with its knowledge of 2013 a second one is overdue. And here is our two-part interview with Winfried Schafer.
After
part one of our interview with Winfried Schafer
, you can read part two here. Both parts can be read independent, but if you are interested in his opinion football in Thailand and its development, you shouldn't miss it. However, in this very entertaining, interesting and to the point second part, we learn what the Fans in Thailand mean to Schafer. He further draws a comparison to his work with the Cameroon FA and the Thai FA, and why he can imagine to stay. As a coach in the Thai Premier League.
thai-fussball.com:

During the last two months it was speculated a lot on your contract and about whether you and the FA could part ways. What exactly is agreed on terms regarding the length of your contract with the FA?



Winnie Schafer:

I don't want to speak about details of my contract publicly. My contract in every regard corresponds to FIFA statutes. I often enough said and written and say it once again - in spite of all problems: I am happy to be the national coach of Thailand. The work with the player is miraculous and the people of Thailand are splendid. The enthusiasm of the fans have given me a lot of strength. I feel very well and I would like to fulfill my contract. The term ends in 2014.



thai-fussball.com:

Last year, were you really close to resign? And if so which role the fans have played on your decision to remain?



Winnie Schafer:

Like I said before, the fans played a significant role. I feel a backing and spirit of optimism like I have not experienced before. I do like to stay here, because I am to the firm conviction that we can reach a lot together. The fans and we, the team.

"..in African countries there is a different motivation, a different pressure to get higher marks."




thai-fussball.com:

What do you think is the reason why most of the fans are behind you?



Winnie Schafer:

Primarily, the fans are fans of the national team. And, nevertheless, we offer considerable football. And I must stress it once again, at the moment the criticism is loudly, but the Suzuki Cup was very successful. We couldn't win the title. But look, what kind of football we got to see? Rousing, honestly and powerful. I am sure, the fans recognise exactly whether it was honest work or not. And we worked honestly. We give everything and brace ourselves against opposition.

I am very thankful to the fans for their trust and support and I hope that both coheres with the fact that the fans know, how much I have taken Thailand to my heart.



thai-fussball.com:

With Cameroon there were many problems as it was reported, how do you rate them in comparison to Thailand? And outsiders don't highly rate the league in Cameroon. So why do they have world stars like Samual Eto'o and Thailand doesn't?



Winnie Schafer:

The comparison is absolutely inappropriate. The league of Cameroon is not crucial. Rather the fact that all the young talents perfect their abilities mostly in European countries and leagues. The big African talents never remain for long in their native country but are signed by European clubs at an early age.

And of course in African countries there is a different motivation, a different pressure to get higher marks. Nearly every boy plays football, simply because the sport offers the big possibility to live a better life. Players like Adebayor, Eto'o, Drogba belong to the richest people within their homelands and only because they could make it in football and were discovered.

Every boy and every family in Cameroon or other Black-African countries knows it. Consequently a football culture has progressed which doesn't exist in many Asian countries in such a way. Just look at the African players in the TPL. These are no world stars or outstanding talents, but rather average of what can be find in Africa. They are good, but not good enough for Europe.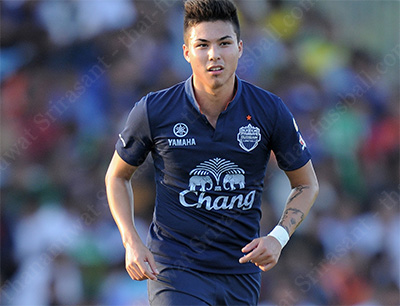 Thai-Swiss: Charyl Chappuis
image: © Thananuwat Srirasant

The problems we, the team and I had with the Cameroon FA, were rather political. Organisation and structure were not ideal. But this was put into perspective by the fact that most players played at top-clubs in Europe. A similarity to Thailand doens't exist really. For example, the players mistrusted the FA and also even today there are regularly massive discussions between players and the association. Mostly it is about outstanding bonus etc. The players feel used and cheated, not well treated and underappreciated. It is not the case in Thailand.



thai-fussball.com:

How do you see the jersey dispute with FIFA from a present-day perspective?



Winnie Schafer:

Our armless jerseys … At that time I have not understood the dispute and still do not understand him today. We looked excellent, the boys loved it and the people were totally excited. Puma never again sold so many jerseys. We helped Puma to become a trending brand. FIFA could have been lenient here and showed some courage. There is nothing bad on a little bit of chic.



thai-fussball.com:

It appears that Thai clubs are doing better than the national team on international stage. Could it be because of the foreign players? Meanwhile the clubs are able to reach at least the quarterfinal or semi-finals of the AFC Cup.



Winfried Schafer:

Good, foreigners of strong characters are important to each league. It is enriching to expand one's horizons. The youngsters can learn from the foreigners, not only how to play, but also how to act professional. As said – strength of character is enormously important. In any way, the foreigners contribute a lot to the success in international competitions. Nevertheless, I think, we are on a good way to make the national players so strong that they will outstrip foreign players in the long run.



thai-fussball.com:

What do you think about Teerasil Dangda's trial with Atletico Madrid?



Winfried Schafer:

I think, it was the wrong time to go to Madrid. After an exhausting season and the Suzuki Cup, he was tired. Perhaps it also was not the appropriate club. Very robust, physical style of play. However I am certain that he has the potential to play in Europe. On the other hand it maybe was good for him, to see how clubs work in Europe.



thai-fussball.com:

It is said, in general, that a player who want to play in the TPL, should have at least the level of the third German league. How do you rate the chances of Buriram's new signings [Dennis Buschening, Charyl Chappuis, C. Xaysensourinthone; ed.], which have been breed in Europe, in regards to the national team?



Winfried Schafer:

I see it positive. First of all, new impressions and influences are always good. And many countries made an excellent experience with such players. Just look at key players in countries like Germany, France, England or Holland.

"...to take over a club and within two years time to spread fear and terror in Asia..."


thai-fussball.com:

What must be the next stage in the development of football in Thailand. What needs to be addressed and are there any specific plans from your side?



Winfried Schafer:

Without a doubt, we need a working, professionally organised youth League. The best of all would be to have a U14, U16 and U18 league, reasonable broken down by region, to reduce journey times. It would make sense here, to include the schools. In part, they are doing a great job. Just think of the Bangkok Christian College. My team and I, we are ready to provide plans and we are dying to help, to get things started and to form.



thai-fussball.com:

You mentioned a cooperation with the German Football Association. What kind of possibilities are to expect in the frame of such a cooperation?



Winfried Schafer:

My son has made the first step. He has met with responsible persons of the German Football Association (DFB). In lengthy talks it was discussed what Thailand needs and why Thailand could be very, very interesting for Germany. What we do have in mind is a partnership, the DFB so far has only with associations from Japan and China in this part of the world. With a main focus on teaching youth coaches, providing assistance in establishing a youth league and referee education. Now it is on the Thai FA to pick up the ball.



thai-fussball.com:

After you are here now for a while, can you imagine a career in the Thai Premier League as a coach?



Winfried Schafer:

I've actually thought about it a few times already. Because it's obvious. I have the boys for a while, we work well together, I can see what is developed and then again I must let them go… each time it feels as if one would tear a family apart. And as a national coach you only have a few games a year you be in charge. And very less especially in Thailand…

The idea to stay here, and to take over a club side with my staff, to help the side to grow and within two years time to spread fear and terror in Asia, because we are a favorite to win the Champions League… that would be very, very appealing. After that, with a heavy heart but proudly, selling your first player to Europe...this idea is really attractive to me. But the general conditions must fit. And since I am here, I know very exactly what conditions.



thai-fussball.com:

A forward look. Who will win the Thai Premier League in 2013?



Winfried Schafer:

I think Muang Thong and Buriram will be the two sides battling for the title. I hope that there is a third team which is able to join the race to make it more interesting. But Muang Thong must prove themselves in the Champions League first now. If a side becomes domestic champion masterfully like Muang Thong, there is always a high pressure. And if we are honest, with such a potential, the team must manage to pass the group stage of the Champions League.