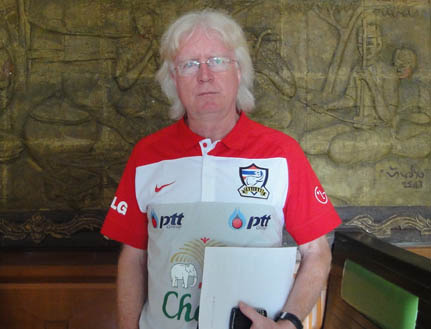 Winfried Schaefer
© thai-fussball.de
Since 1st of July Winfried Schaefer has been in charge of Thailand's national team. During the training camp in Buriram, we had the opportunity to exclusively interview the 61-year-old German.
For 3 years now Thailand's top league has been booming. In the past Thailand's best used to earn their money abroad, now almost everybody has returned home, and the TPL is one of the best leagues in Southeast Asia. Unfortunately, Thailand's flagship, the national side, went vice versa recently and left many fans in anger. Defeats, especially to Vietnam, or draws against neighbouring Laos gnaw on the pride of Thailand's football fans and are perceived at least as badly as if England would lose to Germany, Scotland and Wales at the same time. Reasons for it may lay deep. Lack of structure in the area of youth development. The FA distinguishes itself with a lack of planning ahead, at least for European understanding, and afterwards the hiring of Bryan Robson appears in not a good light.
It's obvious that only reforms will lead to better results. Nevertheless, since Schaefer has been in charge, his announcements about his plans and targets are to be noted. However, a lot depends on the support from the FAT to put words into plan and action.
thai-fussball.de:
Mr. Schaefer, how came it you signed as national coach of Thailand? Did it had something to do with the fact that Muang Thong United approached you at the beginning of this season?
Winfried Schaefer:
Yes, but at that time I didn't want to coach a club unknown to me. I also had an offer from a South African club side. After 7 years I just wanted to become a coach of national team again and with Thailand I get the possibility to develop something. Currently Thailand is ranked 123, and it appeared to me that there is lack of interest from certain sides of the team.
thai-fussball.de:
From the Association side?
Winfried Schaefer:
No, in general. Yesterday I have asked, when Thailand won the last time and none of my employees could answer this. We want to change this. We want the media to report about the team on any occasion. The national team should be the flagship of local football. In Spain it was not much different a few years ago. But over the past years, a shared identity developed via the Spain national team.
I explained to Kawin why Oliver Kahn become as good as he was.
thai-fussball.de:
Right from the start you experienced a lot of hustle and bustle, you met the new Prime Minister, Robbie Fowler and now Newin Chidchob. How are your first impressions?
Winfried Schaefer:
The fact that Robbie Fowler now plays in Thailand, is a good thing. Other strikers can learn a lot from such a player, e.g. how to protect the ball. Here in Buriram I had dinner with Newin and he showed me all the facilities. This is really impressive. Up to now I have had only positive experiences.
thai-fussball.de:
How are your first impressions here after the first training sessions? Could you already identify a leader who maybe is also able to transform your ideas on the pitch?
Winfried Schaefer:
Yes, team captain Nattaporn Phanrit is one of them. Then the goalkeeper, Kawin Thamsatchanan, even though both are good ones, I have to admit. I explained to Kawin why Oliver Kahn become as good as he was. It was not just because he made some brilliant saves. It was also because he knew how to direct the players in front of him. This resulted in less shots at his goal. However, this is rather a question of mentality.
I need such leaders, because I myself do not stand on the field. However, these are also questions about discipline within the squad: about self-education and how players are able to mutually offer criticism. Because there's nothing wrong with that, but should help to move the team to forward.
thai-fussball.de:
How do the players address you?
Winfried Schaefer:
I am just about to learn the nicknames of the players. The players address me with Winnie, I have no problem with it.
thai-fussball.de:
You carried out the goalkeepers training by yourself. What has happened with both your German assistants?
Winfried Schaefer:
This was fine; rather a misunderstanding. Norbert Hauenstein had to step back for private reasons and with Frank Brasas it has failed because of the contract negotiations. Temporarily the goalkeeping coach of Muang Thong will do the goalkeepers' training, and after both games against Palestine we will see what happens. Earlier in my coaching career I have trained Oliver Kahn because we only had a coach and one assistant coach at the club. Therefore I often alternated with my assistant.
thai-fussball.de:
Previously a squad of 35 players was announced, only to be cut down to 25. How was the selection made?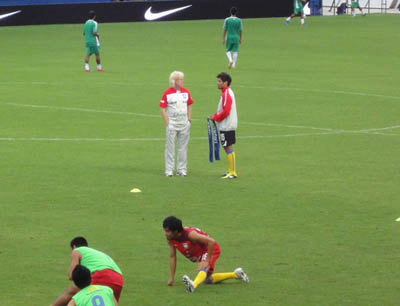 Schaefer welcomes Surat Sukha
© thai-fussball.de
Winfried Schaefer:
We had a look at games on DVD and also have sorted out all 3 banned players. Surachai knows exactly what I want. I want players who are motivated. We also called up 9 players who were not with Robson. I do have the players for about 2 weeks, before we go into the first World Cup qualifier. It is obvious that miracles won't happen. Now we are about to eliminate the mistakes which the players have made during the practise match against Myanmar.
If you look at how many goals have been scored in the league between the top-teams, it become obvious that we do have a problem in converting chances. We also could see that from the matches against Singapore and India.
However, in the short period of time where I do have the players around me, I am not able to change everything. This must happen at club level.
thai-fussball.de:
Did you get some feedback from the club coaches so already? Are they willing to support you and do you plan any regular meetings between club coaches and yourself?
Winfried Schaefer:
Up to now I have been in contact with six coaches and the response so far was positive. At the beginning I have been misunderstood a bit because they thought I wanted to interfere with their work. But I am not the coach of the coaches. I rather would like to have an overview about the players coming to the national team. If there is a player facing problems, there should be an exchange of information with the club, how the problems can be solved. Or if there is a promising player whom I do not know and who maybe could play for the national team in future. Of course I need to know about things like that.
In the Emirates, for example, there was not such a thing (Schaefer worked for Al-Ahli and Al-Ain, Red.). 6 German coaches were working there at the same time for a while and a lot of good players were formed. But I almost never saw the national coach. At the cup final I was the only coach who was in the stadium attending the final besides the coaches from the two finalists. Nevertheless, I think all league coaches have to be present there. In Germany there is a meeting of all coaches prior to the final and afterwards everybody follows the game in the stadium. Unfortunately, they have never done this here. That everybody meets at the final, we need to introduce here.
thai-fussball.de:
What do you think about Palestine?
Winfried Schaefer:
It won't be easy. Some think it will be a walk over. Not the players, but some others. Palestine is ranked 167, and the gap to 123 isn't that big. Palestine will field some players 1.90 m tall. They use many naturalised players playing in America. We are only able to advance if everybody concentrates and pulls in the same direction. We must avoid conceding any goals at home and of course we do need some luck.
thai-fussball.de:
Are you responsible for the U23s and U19s as well?
Winfried Schaefer:
I just observe them, but I am not the coach. There are many players in the national team who play U23. After both qualification matches against Palestine I will also meet the coaches of both sides. Both are the base for the senior national team, as is the younger generation in general. Without youth development it will won't work here as well. It's too late for the World Cup in Brazil of course, but for the World Cup in 2018 we need to put the base in place now.
At the moment it is rather a gamble to advance. Our opponent needs to hit the bar or the post, and than you maybe become runners-up at group stage and are finally into the last round of qualification. If you are lucky enough you then may finish 3rd and you play vs Oceania.
All appointments are to be summarised and planned 2 years ahead.
thai-fussball.de:
The U-23s take part in the SEA-Games, and the Thai Premier League will see a break for about a month. What is your opinion about it?
Winfried Schaefer:
Yes, and moreover, we do have the group stage of the World Cup qualifiers...of course in case we should advance. You have to be realistic, Thailand doesn't have so many good players that you are easily able to build up an U23 side beside the senior side. If for example Muang Thong have 6 players at the SEA-Games then it's unfair when it comes to the league.
thai-fussball.de:
How do you plan to influence the appointments of the national team?
Winfried Schaefer:
Now we have taken the FIFA calendar and we want to use all the other matchdays. This year already 3 FIFA matchdays have passed without any game for the national side. The last competitive match was 7 month ago! I already made it clear to the FAT that we will make use of FIFA matchdays in future to play internationals. Moreover, all appointments are to be summarised and planned 2 years ahead.
thai-fussball.de:
Sometimes a fan who follows the local game does not even realise what kind of a game it is on any given day: FA Cup, League Cup or TPL.
Winfried Schaefer:
Currently the problem is that the league is booming and people but of course you need to have a suitable organisation behind to organise all the things. In Thailand all this is in child's shoes. However, the federation has accepted to handle it in a more organised way in future.
thai-fussball.de:
What kind of tactical system do you like to play?
Winfried Schaefer:
Against Myanmar we wanted to start with one striker, with Teerasil Dangda. The problem is, he is not really a centre forward, rather he is the kind of player which plays all around and then goes straight into the box. At home, where you need to build up pressure on the opponent you won't have success with that. For example players like Rangsan Viwatchaichok or Datsakron Thonglao are two which could go forward from time to time and fill the gaps. If you look at both, when they play at club level, both play rather in the middle and play long balls instead of going forward. With a striker up front and the aforementioned players in the middle you always will have a big hole in between.
I am sorry but I can't say more about the scheme. Time will tell, and I am only able to let the players play what they are able to convert on the pitch in the end.
thai-fussball.de:
Some of your former team mates like Berti Vogts or Lothar Matthäus are now national coaches like you. Have you any plans to make use of your connections; to realise friendlies against teams from Europe rather than playing against the same opponents from Southeast Asia all the time?
Winfried Schaefer:
Why not if it turns out? If we want to become better, we must learn. I have already received a letter from an Englishman who has contacts with the Jamaican team.
thai-fussball.de:
Did you know that your assistant coach Surachai as well as Datsakorn Thonglao have played against your former club Al Ain in 2003 during the AFC Champions League Final with BEC-Tero?
Winfried Schaefer:
Yes, Surachai has mentioned it to me.
thai-fussball.de:
In Germany you used to drive a car. You've now been in Bangkok for a few days: have you dared to jump into the daily chaos by car?
Winfried Schaefer:
Up to now I have seen only a few accidents. Everybody is driving like lunatics. The biggest problem for me might be to concentrate upon the left-hand traffic. Maybe I'll borrow a car from time to time and give it a try. But of course I would need a navigation system (laughs).

* If you are interest to publish the whole interview or a part of it, for Print or online media, please ask for permission via: info [at] thai-fussball.de. Many thanks for your understanding.*

Autor: esgede
Editor: Paul Hewitt
Translation: lokomotive