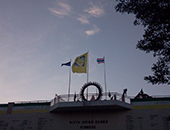 image: © thai-fussball.com
There are videos and there are videos. Just now, in the times in which the discontent about the leaders of Thai football becomes louder. The one we are going to write about today, is one we hold for a special.
Sompong Soleb works his way through the middle of the park, pass on to Jakkraphan Kaewprom, he swings in a cross and Teerasil Dangda who is lurking in the penalty area is puts the ball in the net.... Goal. Thailand is one up over Australia. The voice of the commentator falls silent, the tone grows pale and becomes black-and-white. A voice sounds from the background. These are the beginnings scene from a video entitled with "What is football?" At first, and not least by the resemblance of the voice with the goal scorer from the Australia game, one believes Teerasil, tells about what football means to him. However, far from it. The five minute clip turns out to be one of the best made recently, reflecting on the current situation of Thai football.
Spoken in Thai, with English subtitles, it is a young Thai with a gentle, careful and quiet voice who first tells what football is for him, what he wishes and what he means to him. In times in which a nation is split in Red and yellow. Then he turns to those people who steer the football in Thailand. Not with the sledgehammer method, as seen so often. Rather in a very subtle, reserved kind he criticises the state of the football in the country of the smile, and the persons responsible, which he even address directly.
We found it so awesome, that we did not want to withhold it from you. On the contrary. We believe that it should attract even more attention because it sums up everything to the point within few minutes and does not become insulting towards third, at least superficially. However, it also stands, indeed, for what football is and could be. And with the second half it could also stand on behalf for countries which are on the same step in football like Thailand. Only with other acting people.
When we tripped over the video on Sunday, it had only 300 views. With the writing of the article, only few hours later, these numbers are over 11.000. A fact which clearly speaks for itself.
Below you can find the transcript of the subtitles and the video clip we are talking about.
"What is Football? If ask me what is football...apart from a round inflated ball, to me as another Thai fan, I would answer 'Football is joy'. Football...is fun, exciting, enticing, it is marvelous. Something that I like...want to spend time on.
Most of us are middle class. Middle class from a developing country in which it has been developing for quite a long time. Hence, something entertaining that doesn't take much thought to us would be football. I think that people who don't like it wouldn't understand. For me, in the middle of society and political turmoil where people are separated by different color shirt, football should be one of a few things that can bring us, sing, or celebrate together. Simply put, despite all this crap, football can unite us. Weird isn't it.
This video clip isn't much if you are looking for anyone that are against, opposite from the person making this clip this is just another Thai fan video. Just another one who is like many that is feeling down. Feeling down not because the national team looses often, nor not winning trophies, nor going to the world cup. But we are disappointed that we are still in the same step in which we are supposed to take these step further already.
Truthfully what you are trying to do today isn't wrong. But I want your small time to look at this side. You should know that Thai Football isn't just about you. With all due respect, It isn't about beneficiary, stocks, or other matters that you are interested in. It is about every Thai people that love and believe without hidden clues. Thai people like us that are part of your tool.
I won't add more as you might not like it. But lastly I would like to say that...if you really think that we are stupid and slow, think again. We all want a change, aspire for improvement, wanting it to bring joy for us once again. I don't want Thai people to quarrel at each other. I strongly think that football should bring joy to everyone, ...even for you
[here Worawi Makudi comes in the picture, ed.]
Although football this days is about business, I still believe it should not be corrupted.
Thank you for every contribution in the past."