It took a long time. But now, finally, Thailand's first youth league with a regular competition over several months should see its start this weekend.
The youth system in Thai football still lacks firm structures and clear competitions. Nationwide annual youth leagues, in which the clubs can compete, are missed completely. Instead every region runs its own regional tournament lacking of any real competition, is less significant and without any value. Only the Coca Cola Cup for U-19 club sides, backed by the FA, can be taken seriously - more or less. However, also here, most clubs just put a team together for a couple of weeks just to breaking it up after the cup finished. But now, after over one-year planning and with a delay of eight months, an under-17 league is ready to kick off.
For the first time in October last year we reported on the plan of several clubs to
introducing a proper youth league
. Primarily initialized and propelled by Chonburi and Bangkok Glass. But without any support by Thai FA and on one's own initiative by the participant clubs. In it, nothing has changed till this day. The only difference to last year, after several meetings and postponed starts, it finally seems to go off.
Several clubs were approached in the run-up whether they like to participate. At the end, eight clubs confirmed their participation. Beside Suphanburi, Chonburi, Bangkok Glass, Chiang Rai United, Buriram and BEC Tero - Muang Thong and Pattaya United were aboard. On a meeting in May
(thai-fussball.com exclusively were present)
of this year, with which the youth league was finally settled, basic conditions as well as rules fixed, Muang Thong and Pattaya were not present. They have been replaced with Police United and Assumption Thonburi (Regional League Bangkok). After the initial plan failed, from last year, to kick off the league in February 2013, one agreed to start the league in August. However, also this date could not be met and November was set as new kick off date.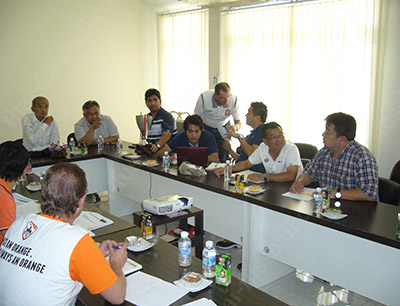 Meeting for the U17 league in Mai
image: © thai-fussball.com
The details of the under-17 youth league, as agreed on the meeting in May, looking as follow. The competition goes over a period of seven months. From November to May 2014. Entitled players are born in 1997 and more downwards. A maximum of 35 players per team can be registered with 18 to be nominated per each game and maximum of three foreign players. The game duration will be 40 minutes per half-time.
Like a normal league competition, the youth league will be played in a round-robin format with home and away games. Every club acts as host twice. Except for Buriram and Chiang Rai. Both will host games only once. On each weekend two matchdays are to be played. On Saturdays and on Sundays.
To cover the costs, it was planned to win insurance company AIA as sponsor. That was in May. Whether this succeeded, we currently don't know. Although, away teams must bear their costs themselves for journey, lodging and catering anyway. The home team must make sure for a good state of the pitch, ball boys and that ambulance is present, as well as provide for plentiful drinking water. Of course to run the league properly it also needs referees, Match Commissioners and also the organizing committee costs some money. Thus, roughly estimated costs are 650,000 Baht. Besides, the large part is allocated to the Referees with approx. 500,000 Baht.
The only stumbling block on the way for the start on Saturday could be the deadline on 20 November. Till then all clubs must have confirmed their participation finally and the teams need to be registered. The two hosting teams of the first two matchdays will be Assumption Thonburi and Chonburi.
Winfried Schafer, by the way, when he was still in charge of the national team, espouse personally at the FA for the introduction of youth leagues to support and develop young talents. The reactions of the man towards him were a shrug and a "Cannot, Cannot". It might not be difficult to guess who sat opposite Winnie at that time.