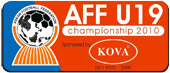 On this Saturday, the U19 ASEAN Championship are going to start. A tournament organised under the roof of the ASEAN Football Organisation. The tournament will lasts for about one week. This year, only four nations are going to participate.
Besides Thailand and Vietnam from Southeast Asia, the two other nations participating are South Korea and Australia. Compared to 2009, only 4 Nations are going to play the championship, while in 2009, eight Nations where playing. Australia, last year, was the only Nation which came from outside Southeast Asia. In 2010, the Championship is taking place in Vietnam. The host will be the first team on the schedule which Thailand will have to meet. On 26 July, the Thais will take on Australia, and two days later South Korea is waiting.
The first two placed teams, after a three round match schedule, will play the final. The two bottom ranked teams are going to play for the 3rd place. Thailand is going into this tournament as the defending champion. In last years competition, Thailand was able to beat Australia after penalties. Over the past years, players like Attapong Nooprom, Suttinan Phuk-hom, Teeratep Winothai, Ekaphan Inthasen und Surachet Ngamtip have been part of the squads in this tournament. They are all now stars and playing in the Thai Premier League.
For this year, Thailand announced the following players:
Adision Sappaso (Siracha FC), Wittawin Clowuttiwat (Muang Thong United), Natpakan Kleabua (n/a), Sakda Fai-in (Osotspa-Saraburi FC), Abhisit Khamwang (n/a), Seksit Srisai (n/a), Sakolwach Sakolla (Khon Kaen FC), Chayanan Pombuppha (Muang Thong United), Ponrachai Hongthong (n/a), Pokklaw A-Nan (Thai Honda FC), Attaphol Thomma (n/a), Attaphon Kannoo (n/a), Pittayapat Mangkata (Thai Honda FC), Wasan Narsuan (n/a), Piyarat Lajungreed (n/a), Noppanon Kachaplayuk (Chonburi FC), Pattana Sokjoho (Thai Honda FC), Suchin Yen-Arm (n/a), Visarut Vaingan (n/a), Natthawut Khamrin (n/a)
* in brackets you find the clubs as long as known.