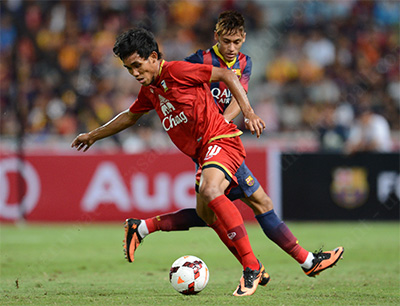 2013: Teerasil against Neymar
image: © Thananuwat Srirasant
The transfer window in Europe closed and Teerasil Dangda is still in Thailand. Gone his dream of playing in Europe? By no means like it seems as he is apparently closer to a move to Spain than ever before.
"El Almería ficha al delantero Teerasil Dangda, la estrella del fútbol asiático", so it was to read in thick letters on the web page of Spanish club UD Almería on Wednesday evening around 17:00 European time. Shortly thereafter the web page of the Spaniards was not accessible for more than one hour. Whether it was related to the news which had spread like wildfire in Thailand late at night, is a question which presumably can be only answered by the IT guys. However, she means with Teerasil Dangda - Thailand's best player - is close to a move to Europe. And this time it seems to be serious and is reported and confirmed, even by the other side.
Teerasil Dangda's dream of playing football in Europe seemed to have burst for one more time. No transfer for him has become reality by the end of the transfer window in Europe last week. After his trial with Atletico Madrid a year ago, his club Muang Thong United announced in November that Teerasil will move to Spain in 2013 and change the club with the transfer window in January 2014.
Time passed, Muang Thong began its season preparation, but Teerasil was still there. He trained with the team as usual and played in the Kor Royal Cup against Buriram United last weekend. At that time a move was not announced yet. Although Muang Thong's Director of Football, Ronnarit Suewaja, stressed over and over again during the last days of the window - one will find a club for Teerasil right on time. However, hardly a word was said about Atletico. Rather, we heard from sources close to Teerasil, he will join Almeria.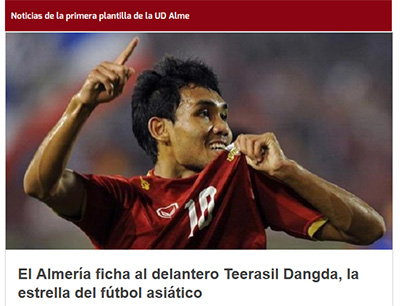 The headline
Now, a few days after the transfer deadline, UD Almería surprisingly indeed announces the signing of Teerasil. Since nothing less than this is behind the headline we cited above from the official Internet presence (www.udalmeriasad.com) of the promoted club who currently rank 17 in La Liga. Up to now, however, only small details of the deal, which still has to be carried out officially, surfaced. Mui, how the 25 year old is nicknamed, will be lent for a year to Almería with an option to buy. Then his move should take place in summer right on time to the new season in Spain. Whether the Mediterranean coast town is still playing La Liga then, and whether Teerasil, will still join the side in case of relegation, we certainly get to know during the next days. Because Juan Bonillo (CEO) and Alberto Benito (Director of Sports) will travel to Thailand on 18 February with a press conference over the final agreement to follow on 19 February.
The fact that a move to a top club, like Atletico Madrid didn't turn real, is no tragedy. Maybe a bit for Muang Thong who is a partner of Atletico. Or Siam Sport who owns the Thai side. But we have already pointed out at
other place
to how the deal could have had run off and that a change to Madrid is rather unlikely. And not least, Almeria is a quit, small town, even warmer then Madrid and the media isn't as present as is in the capital of Spain. Of course going to Japan, Korea or Australia certainly would have been a more sensible switch. At least for now.
Thai football fans may won't care much. Atletico or Almeria. Primarily they see a longing dream come true. One of theirs, the best, is going to Europe and can prove himself. In addition, one of Europe top leagues. And this time it is no Thai politician, like Thaksin Shinawatra couple of years ago who got Suree Suka, Kiatprawut Saiwaeo and just Teerasil to Manchester City under mistaken idea. At that time everybody of the three couldn't get a work permit. With different and softer regulations in Spain this shouldn't be a problem. Sportingly, Teerasil must assert himself of course and above all he must stay free of injury until summer.